APPLY
You're about to apply to 0 jobs
You will receive email notifications from these jobs once you apply.
LNE Consulting
Hollywood, FL
Private
Advertising
Sales - Marketing
Consulting
< 100 employees
Overview
LNE Consulting  has been recognized, time and again,
for our stellar performance in delivering the highest quality of results to our
clients. Since the beginning, 2009, we have been committed to producing
tangible and measurable results through our marketing campaigns. By honoring
our commitments, we have expanded to dozens of cities throughout the United
States. Excitingly, we are currently planning our first European expansion as
well.
Despite a challenging economic climate, LNE Consulting has
steadily continued to grow, and our business has only gotten stronger in recent
years. The reason for this is simple: we offer an extremely valuable service to
our clients, which is gaining new customers and ensuring the utmost
satisfaction of the existing ones. When a company is able to master these two
things, their business inevitably thrives. 
What Does LNE Consulting Do?
LNE Consulting provides business consulting and sales services to large, well-established corporations. We plan, execute, and manage direct marketing campaigns within a target market. We work exclusively with our clients' business-class customers, which means that a significant portion of our daily work is building relationships with small- to medium-sized business owners. 
Our firm is currently working on a project for our $32-billion mobility client who is seeking to grow beyond its current 20% market share. Excitingly for us, as we help our client grow, we continue to grow ourselves. 
We do not conduct telemarketing, we do not design billboards or print ads, and we do not conduct door to door sales. Our LNE Consulting account managers dedicate their time to building relationships with individual business owners. The approach to earning new business and maintaining loyal happy customers is the following: integrity, transparency, enthusiasm, patience, and great conversations.
LNE Consulting Careers
All career opportunities at LNE Consulting provide the opportunity to work in a fun environment where you will be challenged on a daily basis. All positions, including those that begin as entry level, offer the opportunity to move up within the company at a fast pace. This, of course, relies heavily on the work ethic and dedication of the individual.
Note that we did not say it relies on one's previous experience or education level! We do, indeed, offer entry level positions that are perfect for both recent graduates and those looking to embark on a new career path. Our entry level positions do not require you to have 3-5 years of experience. We are most interested in your mentality and capacity to learn quickly.
Thorough on-the-job training is provided to every single employee at LNE Consulting, regardless of the person's previous background. The teaching of essential business skill sets and the development of a successful mindset is a winning combination that consistently produces pace-setting business leaders.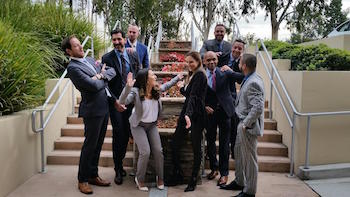 What is the Work Environment Like?
When you work at LNE Consulting, you become a part of a family. Our family is filled with enthusiastic, passionate, hardworking and extremely motivated individuals. Being voted one of the best places to work in the United States for 3 years in a row has not been by chance. We live by the mantra that you may go fast alone, but together you will go far.

Here are a few things you can expect as part of the LNE Consulting family:

You will work hard. We hold our team to high standards and take pride in what we do.

You will be rewarded for that hard work. You will earn promotions based off of your achievements.

You will be empowered. Each individual is coached to think like an entrepreneur.

You will be surrounded by positive influences and be expected to do the same.

You will be encouraged to dream big. There is no goal too big in our eyes.

And most importantly. You will have fun! Enjoying the ride is the most important part of life.
To learn more about the corporate culture of LNE Consulting
visit our careers page
.
Contact Us
LNE Consulting proudly serves Southern Florida with offices in Miami, Hollywood & Fort Lauderdale. Get in touch with us at hr@lneconsultinginc.com or call us at (754) 300-8092.

lneconsultinginc.com