APPLY
You're about to apply to 0 jobs
You will receive email notifications from these jobs once you apply.
Cydcor
Agoura Hills, CA
Private
Sales - Marketing
100 - 250 employees
Overview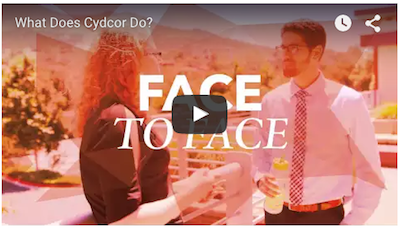 Be sure to watch Cydcor's latest video on YouTube here:
https://www.youtube.com/watch?v=vHPnnJ3DRfQ 
Cydcor is the largest provider of outsourced sales services in North America. Serving Fortune 500 and emerging market clients through business-to-business, residential, and retail sales channels, Cydcor works with a network of more than 375 independently owned sales companies, providing clients with access to more than 4,000 sales professionals
. Cydcor fuels the growth of its clients' businesses via sales force that achieves results traditional marketing strategies cannot attain. Cydcor is trusted by its clients to represent their brands with integrity and quality.
Cydcor specializes in sales to the business-to-business, consumer, and retail channels. Cydcor employees have opportunities for various professional trainings, business conferences, and individual recognition. At Cydcor, hard work is appreciated and rewarded. Learn more at
Cydcor.com
and be sure to like us on 
Facebook
, follow us on
Twitter
for our most recent company updates, and check out our
Instagram
for an inside look at our company culture.
Bulletin Board


From its rich corporate culture, to its focus on helping people grow, develop, and succeed, Cydcor has worked hard to earn its place on the Best Places to Work list for the ninth time! Learn more about how Cydcor lives up to its "People Helping People" philosophy.

Career Opportunities
If you're looking to start your
career as a Cydcor team member
at our headquarters in Agoura Hills, California, we always appreciate your interest. Cydcor trains impressive teams and focuses on building relationships, professional development, and communication skills.
Great achievements at Cydcor are within your reach, and we encourage you to work your way up the ladder to success. Team members receive paid volunteer hours, and enjoy such perks as professional training, and a work environment and facilities that support collaboration, innovation and results. At Cydcor, we love to work hard and play hard. Check out our Cydcor Team Testimonials
here
.
See what's going on at Cydcor! Connect to us on
LinkedIn
, and keep up with our latest company updates on
Twitter
. For additional information about Cydcor, visit us on
CrunchBase
.
Company Photos
Culture
Cydcor's unique culture enables team members to participate in a variety of self-development opportunities, such as time management, situational leadership, DiSC training and a variety of specialized topics such as public speaking, active listening, and more. Additionally, Cydcor team members receive ongoing training opportunities and participate in team-building activities throughout the year.

Cydcor also believes in giving back. Since 2010, Cydcor has raised funds for Operation Smile with its network of independently owned sales companies, and has funded multiple volunteer missions to provide children with cleft lip and palate surgeries. Cydcor also awards team members paid volunteer hours and partners with local community organizations to drive purpose and the spirit of giving. Our Cydcor blog features company events, news, office fun, and advice for professional development.  At Cydcor, we work to promote and support our team members as much as possible.