Convergys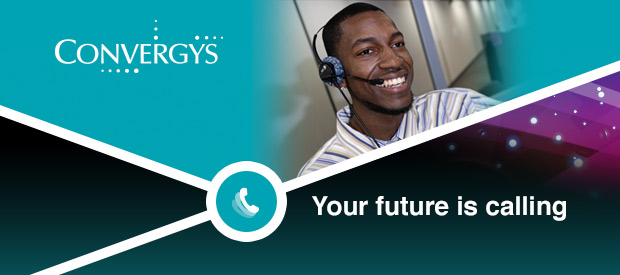 Convergys Corporation (NYSE: CVG) is a global leader in relationship management. We provide solutions that drive more value from the relationships our clients have with their customers. Convergys turns these everyday interactions into a source of profit and strategic advantage for our clients.

For more than 30 years, our unique combination of domain expertise, operational excellence, and innovative technologies has delivered process improvement and actionable business insight to marquee clients all over the world.

Convergys has approximately 70,000 employees in 67 customer contact centers and other facilities in the United States, Canada, Latin America, Europe, the Middle East, and Asia, and our global headquarters in Cincinnati, Ohio.

---
Careers
For
anyone who dreams of a successful career, there's a beginning – a point at
which you choose which path to take. For many, and possibly you, Convergys
is that beginning. We have the privilege of leading a team of talented
and motivated professionals working in locations all over the world, united by
a common goal; helping our clients maintain exceptional relationships with
their customers. This focus on relationships isn't simply a service we provide
– it's the foundation for how we work together, value our team members and
invest in our communities.




Convergys
is a leading provider of customer management solutions for companies across the
country and around the world. For more than 30 years, we've worked closely with
some of the most notable companies in the world, creating innovative ways to
enhance the relationships they have with their customers. The incredible
success we've had is thanks to the nearly 76,000 employees that use the
training they've received here to manage billions of customer interactions
every year. And that's why we need you. We're
looking to add positive, motivated individuals to our team – people who are
eager to learn our business, grow in their careers and advance within our
company.
---