Full-Time positions - $58,000 Annual Salary


Complete in-depth, highly clinical assessments of parents, children and foster parents involved with the child welfare system.  
Provide assessments in the client's home with the Permanency Worker in the areas of parenting, mental health, substance abuse, domestic violence, early childhood development, and trauma. 
Formulate a detailed assessment, including client interviews as well as historical records, that is provided to the court and serves as the basis of the family's ongoing service plan for reunification.
Masters Degree is Social Work required.   

LCSW or LCPC in IL required.

Minimum two (2) years of post-graduate experience with the population of children served by this program. 

Child welfare experience required.

Excellent interpersonal skills so as to interact with all personnel involved in this program- children, parents, foster parents, relatives of children, DCFS staff, community agency staff, physicians, peers, government agencies, school personnel, etc. required.

Reliable vehicle with automobile insurance required.  Mileage reimbursement provided.

Flexible Schedule
Recommended skills
Mental Health
Substance Abuse
Assessments
Child Welfare
Social Work
Licensed Clinical Professional Counselor
Location
About the company
Salary Details
Based on Job Title, Location and Skills
Below Avg.
Average
Above Avg.
Help us improve CareerBuilder by providing feedback about this job: Report this job
Report this Job
Once a job has been reported, we will investigate it further. If you require a response, submit your question or concern to our
Trust and Site Security Team
Job ID: Screener - IA Program
CAREERBUILDER TIP
For your privacy and protection, when applying to a job online, never give your social security number to a prospective employer, provide credit card or bank account information, or perform any sort of monetary transaction. Learn more.
By applying to a job using CareerBuilder you are agreeing to comply with and be subject to the CareerBuilder Terms and Conditions for use of our website. To use our website, you must agree with the Terms and Conditions and both meet and comply with their provisions.
At La Rabida Children's Hospital, our patients aren't like any other - and neither are we. The children we serve live with complex medical conditions, disabilities, abuse or trauma. At La Rabida, we're in it for the long haul, and we've got Chicago's most talented providers - pediatricians, nurses, physical, occupational, speech and developmental therapists - on our side.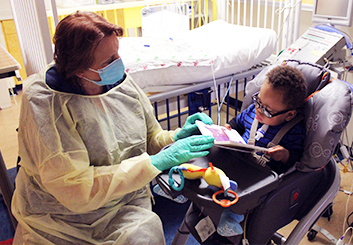 We have more than 100 years of experience treating children and helping them reach their fullest potential. Each year, we help more than 9,000 children, serving each one with empathy, compassion and the highest quality of care.

We offer an integrated approach to healthcare, caring for the patient while also supporting the family. Children with complex medical conditions often need specific skills from caregivers. Proper training of parents to care for a child at home is one of our keys to success. We make sure parents feel confident and secure bringing their child home.

Between our outpatient and inpatient services, we are able to cover a range of disciplines beyond standard medical care: behavioral therapies, case management, social work, nutrition and rehabilitation services.

Children don't choose their circumstances, and we never let those circumstances affect the care children receive. We treat patients regardless of financial circumstances (more than 90% of our patients are insured through Medicaid), and every patient is given the same level of care with no differentiating factors determining what, when, how or where care is given.

Your child is the center of your world - and the center of ours.


Not Ready to Apply?

View the full profile