How To Spot Fraud
Email and Online Fraud - Phishing
Unfortunately, email and online fraud are continuing concerns for virtually all businesses that operate on the Internet. Please be aware that, from time to time, fraudulent emails have been circulated to CareerBuilder users that appear to be from CareerBuilder but which are, in fact, sent by fraudsters trying to steal your login credentials. CareerBuilder is not sending these fraudulent emails. If you receive an email or pop-up window requesting that you sign in to CareerBuilder and provide your personal information, check the link by hovering your mouse over it. If the link appears different than the link printed in the email, do not respond. If you are in doubt, please contact TSST@CareerBuilder.com.
Below is an example of one such fraudulent email:

False Jobs and Scams:
Occasionally, you may also receive email that look like CareerBuilder Job offers. These email messages typically spoof the CareerBuilder logo, disclaimer, and other information. Such email messages do NOT come from CareerBuilder, but from scammers attempting to scam you out of money or confidential information. Be especially cognizant of the salary offered and the time required to perform the duties. If it looks too good to be true, it probably is! An example is provided below: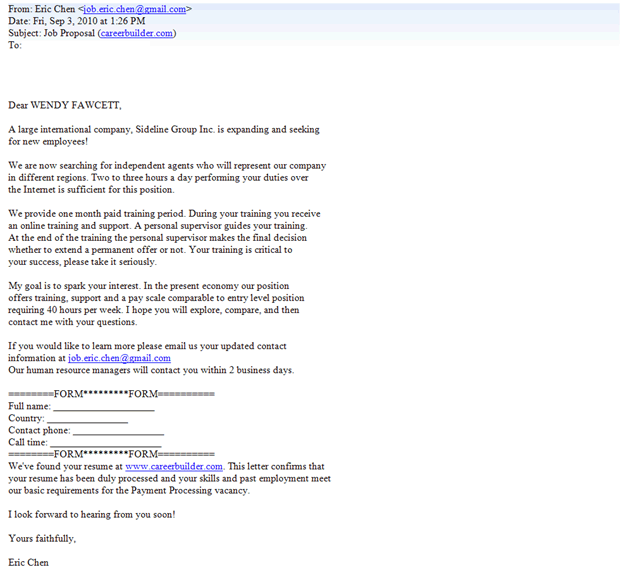 Help Us Monitor Fraud
Please be advised that CareerBuilder will not request that you log in, download software, or provide personal information. If you ever receive a request for this type of sensitive information, please do not respond and immediately contact CareerBuilder customer service at (866) 438-1485 or report the suspected fraud to TSST@careerbuilder.com.
If you think you have been a victim of fraud, immediately report the situation to your local police and contact us at TSST@careerbuilder.com.
Helpful Links For Fraud Security:
OnGuardOnline.gov
IC3.gov
Bobbear.com
FakeChecks.org
Consumer.gov
Crime-Research.org
Getsafeonline.org
LooksTooGoodToBeTrue.com
Phishbucket.org