Western Dental Services, Inc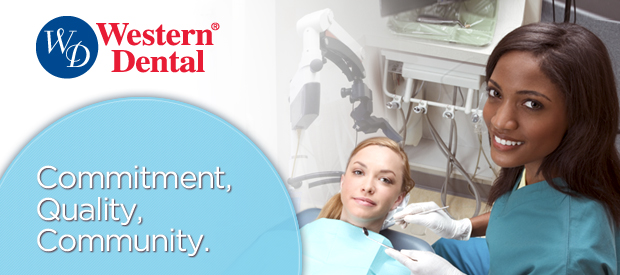 Western Dental and Orthodontics, is a full-service dental health maintenance organization which operates over 200 general dentistry and orthodontic centers throughout California, Arizona and Nevada.

As an employer, Western Dental works with General Dentist, Specialist, Hygienist, Clinical Auxiliaries, Managers, Administrators, Human Resources, IT, Accounting and Clerical personnel. Together we have built a company that we are proud to say team members over 4000 team members and we are growing.

A recognized leader for over 100 years, Western Dental offers excellent career opportunities, with outstanding incentives and rewarding compensation packages that include:
Highly competitive salaries
Comprehensive benefits packages
Clear career paths with advancement opportunities
Extensive training and continued education
Western Dental University
Professional, state of the art facilities
Solid job security
Please take the time to review this site, and discover how you can maximize your professional potential at Western Dental.
---
Company Overview
Thank you for your interest to join Western Dental and Orthodontics. We have unlimited possibilities for qualified professional like you. Make Western Dental your first choice. You can enjoy being part of a successful dental team, learn new skills, and advance in your existing career with unlimited opportunities. We hire:

Dentist
Orthodontists
Specialists
Receptionists
Credit clerks
Dental Insurance Clerks
Sterilization Technicians
X-ray Technicians
Dental Assistants
Registered Dental Assistants
Back office Floor Supervisors and
Office Managers
Administrative / Corporate positions
We are a Military Friendly Employer! Consider us as a place to practice on your off duty days or choose us as your civilian employer of choice at the conclusion of your service. Let us help you with a smooth transition. We can help you navigate the required civilian credentials you will need to practice.
You can earn more, learn more, and receive great benefits every step of the way through your career growth at Western Dental. At Western Dental, we pride ourselves on the caring family atmosphere we have created throughout our substantial expansion, never losing sight of the fact that our people make us who and what we are today.
Team up with over 4,000 dental professionals, with over 400 dental offices throughout California, Arizona and Nevada.
---
Culture
Western Dental is a full-service dental health organization that offers individuals and companies a wide range of high-quality services, including:

General Dentistry
Orthodontics
Cosmetic Dentistry
Specialty Services
Hygienists
With
Western Dental,
you can always depend on great care, affordable payment plans, interest-free credit, convenient locations and hours, and a friendly staff that makes every visit the best experience possible.
---
Contact US
Western Dental & Orthodontics
1(888)256-9976
recruiting@westerndental.com
http://www.westerndental.com/en-US/careers/

---