Tradesmen International Inc.
Private
Construction
5,000 - 10,000 Employees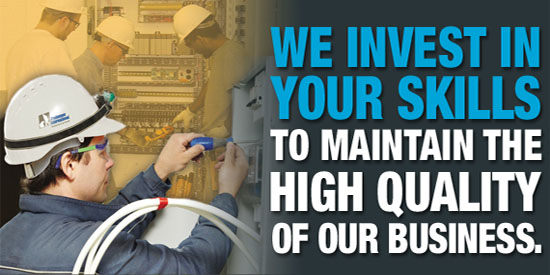 Tradesmen International, founded in 1992, is recognized nationally as a leading source for reliable, skilled craftsmen and professional labor-oriented services. We have thousands of employees throughout our nearly 100 locations as well as the industry's premier travel-dedicated workforce. Yet, as a Construction Labor Support company, we offer contractors, shipyards and industrial clients a great deal more – ultimately helping each maximize labor productivity for every dollar spent on skilled labor. We develop genuine partnerships with our clients and apply proven labor management solutions – via our Total Labor Support ® services – that help contractors achieve the correct balance of full-time workers and variable skilled labor. The typical result? Increased labor productivity and improved bottom lines through labor cost reductions averaging 24 – 32%! Only Tradesmen provides Total Labor Support ® services.



Access to one of America's largest pools of tenured and highly skilled craftsmen, each fully guaranteed
Skilled craftsmen in All Trades that receive comprehensive safety training, full-time benefits and nationally accredited training opportunities
Professionally-trained Labor Productivity Consultants specializing in construction skilled labor. Many companies have saved a lot of money on their bottom line with our construction labor consultants
Optional educational and service programs for you and/or your employees:





NCCER skills assessment
OSHA Construction Industry
Outreach Safety Training
So, while we have nearly two decades of experience ensuring clients have just the right number of skilled craftsmen to operate their businesses most profitably – not too many or too few – our comprehensive service expertise makes us labor productivity specialists that you can count on to improve your bottom line. And, the employer of choice for America's top skilled craftsmen!
---
Culture
Our Mission As a premier provider of labor productivity services, Tradesmen International prides itself on having satisfied customers. Tradesmen's mission is to partner with our clients, helping each to complete their projects on time, on or under budget, at the highest level of quality and construction labor productivity. Founding Goals Tradesmen was established in 1992 and quickly matured in the construction market by committing to three distinct goals: 1. Improve a contractor's overall construction labor productivity while efficiently servicing their variable construction labor needs 2. Provide America's skilled craftsmen reliable work, fair compensation and benefits, opportunities for skill and career growth, as well as safer overall working conditions 3. Help restore the high levels of pride and craftsmanship once prevalent throughout the construction trades.
---