APPLY
You're about to apply to 0 jobs
You will receive email notifications from these jobs once you apply.
The Carvonis Group
Private
Advertising
Sales - Marketing
Overview
​Welcome to The Carvonis Group, a leader in outsourced marketing and sales. We are dedicated to helping our clients in their pursuit to acquire new business-class customers in the Miami, FL area. We have proven that a firm handshake, a great smile, and clear communication are the most effective tools in acquiring and retaining lifetime customers for our clients.

When compared to other marketing channels such as billboards, TV commercials, or radio advertisements, the benefits of our service are invaluable. Face-to-face contact with prospective customers enable our sales representatives to cultivate a rapport with the customer. Through courteous, professional, and product-specific presentations by our sales representatives, we create a positive and lasting impression.

The Carvonis Group is one of the fastest growing marketing and sales firms in the Miami area -- all thanks to the people on our team. Our staff is self-motivated, incredibly goal-oriented, and we take great pride in our work. The Carvonis Group provides each staff member with thorough training from the ground up. Our unique, merit-based, non-seniority advancement structure provides the incentive for each employee to perform at his or her highest level. Each member of our team develops a well-rounded foundation in the essential components of running a successful business and our clients receive nothing but our strongest collective effort.
Bulletin Board
Big promotions, employee recognition, company travel, philanthropic events, fun with the team... It's safe to say that
there's a lot happening here in Miami
!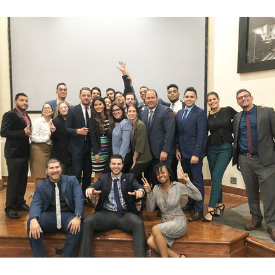 Company Photos
Culture
 What does the culture look like at The Carvonis Group? 
Fast-paced. Representing a high profile client means that we're always on our toes!
Supportive, but competitive environment. Most of our team members come from sports-oriented backgrounds. Our team houses a semi-pro paint ball player, a professional equestrian and the only female member on her high school football team, just to name a few! 

Growth focused.

The personal and professional growth of our individual team members from entry level marketing and sales roles to leadership and executive positions within the company is of the utmost importance to our management team.
Team oriented. The Carvonis Group participates in many events outside of the office together. For example, we organize weekly 

team nights 

where we spend time together socially, playing in sports leagues, or getting involved with philanthropic organizations.

Entrepreneurial-minded.

We are expanding our client partnerships to new locations across the country. We train new managers to oversee additional offices locations nationally. With expansion into 2 new markets forecasted for 2016, we're well on our way to exceeding our client's expectations!
Career Opportunities
To keep up with our expanding list of clients, we are looking for sharp and well-rounded professionals to join our team here at The Carvonis Group. Our work environment is energetic, upbeat, and fast paced – and has unlimited growth potential. Our philosophy of 100 percent internal and merit-based promotions ensures tremendous career potential for each member of our team!

Besides wowing our client, The Carvonis Group is best known for its Management Training Program. Participants are able to work directly with our well-known client, while receiving the necessary training to advance into progressively bigger roles within the firm. By the end of this extremely thorough training, graduates know how to conduct a marketing campaign for a Fortune 500 client and are well versed in a variety of areas such as team leadership, business management, interviewing/recruiting, financial planning, and human resources. An individual who successfully advances through the management training process has the opportunity to take on a management role and oversee a new office location on behalf of our client.
Contact Us
The Carvonis Group

Office locations in Hollywood, Miami and Fort Lauderdale Florida.

786-375-5333

thecarvonisgroup.com