Texas Health Resources
Non-profit
Healthcare - Health Services
Social Services
Hospitality
10,000 - 25,000 Employees
Headquartered in Arlington, TX
392 Active Jobs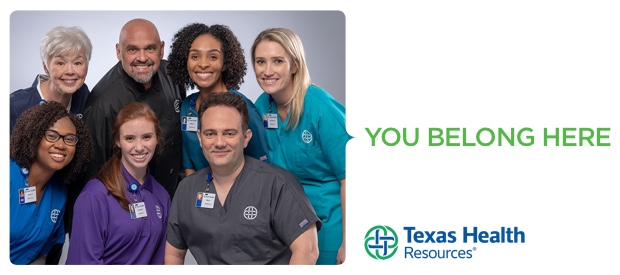 At Texas Health Resources, our mission is "to improve the health of the people in the communities we serve".

With 14 hospitals across the Dallas-Fort Worth area and one of the largest faith-based health care systems in the United States, Texas Health has the resources to offer a variety of career growth opportunities with equally remarkable benefits. You can choose to work in urban, suburban or rural facilities plus have the ability to move within the system. This gives our team a level of flexibility that's hard to match.

Check out just a few of our recent accomplishments:

• #1 as Fortune's 2015, 2016 and 2017 "Best Workplaces in Health Care"
• 2016 and 2017 Becker's Healthcare's "150 Great Places to Work in Healthcare"
• Glassdoor Employees' Choice Award as a 2018 Best Places to Work
• Platinum-level recognition from the American Health Association (AHA) for being a "Fit-Friendly Worksite"
• Named #1 as the "100 Best Workplaces for Women" by Great Place to Work®

Join our award-winning Texas Health family and become a part of a team that is improving the health of our communities daily. You belong here.
---
Benefits
We have the resources to offer a variety of career growth and professional development opportunities with equally remarkable benefits. Texas Health provides an environment for optimal success and we pride ourselves on providing eligible employees with a variety of great benefits which include:

• Matching 401 (K) plan, Flex Spending Accounts and a Credit Union
• Tuition reimbursement
• Wellness and Career Development Programs and Adoption Assistance
• Medical, dental and vision insurance for eligible employees
• Life, AD&D and Long Term Care Insurance and Disability Coverage
• On-site Child Care and Fitness Centers (at select locations)
• Company Volunteer days / CTO

Learn more about our Benefits @ http://adtrk.tw/jbJQA

We are an Equal Opportunity Employer and do not discriminate against any employee or applicant for employment because of race, color, sex, age, national origin, religion, sexual orientation, gender identity, status as a veteran, and basis of disability or any other federal, state, or local protected class.
---
Contact Us
Visit with us online and view all of our opportunities within our healthcare organization @ http://adtrk.tw/auLyk.

Don't see a position of interest? Join our Talent Network to stay is touch about new openings and Texas Health.
---