Six Flags
Public
Entertainment
5,000 - 10,000 Employees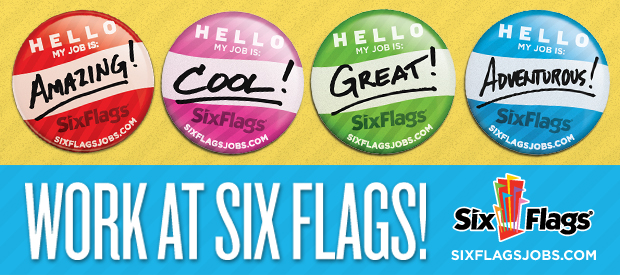 Six Flags Entertainment Corporation is the world's largest regional theme park company headquartered in Grand Prairie, Texas with 19 parks across the United States, Mexico and Canada. Since 1961, hundreds of millions of families have trusted Six Flags to offer affordable, value-packed thrills, record-shattering roller coasters and special events like the Summer Concert Series, Fright Fest and Holiday in the Park. Six Flags' wide array of entertainment options attract families, teens, tweens and thrill seekers alike.
---
Benefits
You'll make new friends and lifelong friends. Whether working seasonally, taking a break from home, not quite ready for retirement, or even challenging yourself with a new career, our flexible scheduling allows you to find time for all the important activities in your life.
There are countless exciting benefits and perks to working at Six Flags:
Exciting work environment
Leadership opportunities
Competitive wages
Flexible scheduling
Free unlimited admission for you and a guest
Exclusive employee events
Reward and recognition programs
In-park discounts
Real world experiences
Make friends
Have FUN!
---
Terms of Use
Sixflags.com is a family-oriented site that represents Six Flags Entertainment Corporation. Visitors to sixflags.com may choose to register at the site. The registration page prominently notes that children under 13 years of age are not eligible to register at sixflags.com. We do not collect personally identifiable information from children under
13 years of age. As a result, children under the age of 13 may not be able to use all areas of sixflags.com.
WHAT THE CHILDREN'S PRIVACY POLICY COVERS

The Six Flags Privacy Policy covers all data collected and used by Six Flags. In addition to the Six Flags Privacy Policy, this Children's Privacy Policy provides further information and privacy protections for our online site visitors who are under the age of 13.
---
Contact Us
Six Flags
924 Avenue J East
Grand Prairie, Texas 75050
---