Company Photos
The Roth Staffing Story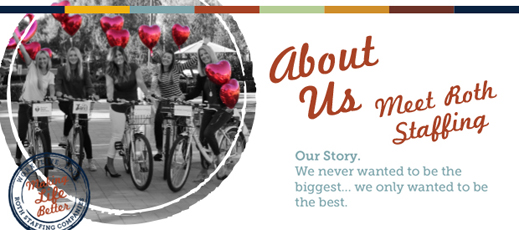 (Pictured: Team Irvine supporting "Go Red" Heart Week)

It all started in August 1994 with one small office in Newport Beach, CA and a vision to change the way the staffing industry does business.

Today, the Roth Staffing family of companies consists of Ultimate Staffing Services, Ledgent Finance & Accounting, Adams & Martin Group, Ledgent Technology, and About Talent. The company is affiliated with Ultimate Locum Tenens. 

We knew our business gave us an opportunity to do good things for others and a responsibility to always do the right thing. By keeping these philosophies at the forefront of everything we did, businesses and Ambassadors quickly became raving fans. We never expected that it would result in unprecedented growth and success.

Read More: http://rothstaffing.com/company/story.php
Say Hello to our Flexible Work Week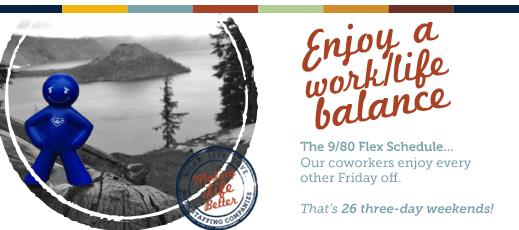 (Pictured: Roth Staffing's "Super Coworker" spotted on Vacation at Crater Lake)

At Roth Staffing, we strive to make life better, not only for our clients and Ambassadors, but even more importantly, for our coworkers. 

That's why we offer a flexible work week schedule that gives you the freedom to travel, volunteer, shop, relax, whatever you want to do with those days! The 9/80 Flex Schedule allows you to work your 80 hours in nine longer days and get the 10th day off. Work is a big part of your life so we don't think of flexibility as "work/life balance." We just consider it to be "life balance." 
Career Development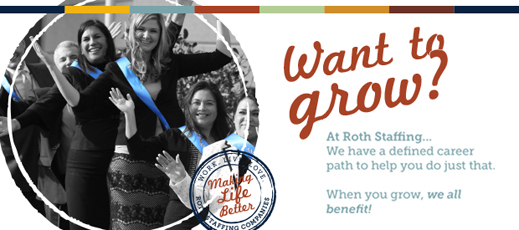 (Pictured: 10-Year Coworker Milestone Anniversary Celebration)

At Roth Staffing, our goal is to promote talented coworkers from within. Along with a strong culture, a fun place to work, life balance, community giving, and a plethora of other features, you want a place where you can further your career. 

A place where your upward mobility has no ceiling. A career and a company you can stick with forever. 
Join an Award-Winning Team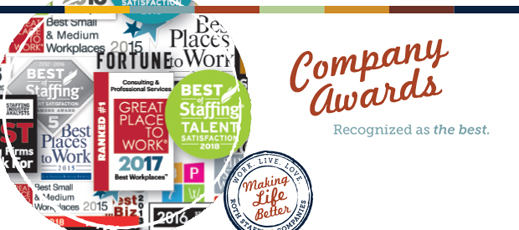 Everyone loves to know that they're on a winning team. Join the staffing firm recognized as the very best in the industry.