Renewal by Andersen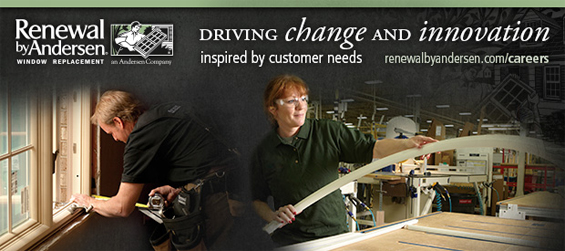 Renewal by Andersen's parent company-Andersen Corporation-has the most recognized window brand in the U.S. and is synonymous with quality. We take pride in Andersen's reputation and carry its traditions of excellence into designing and manufacturing products for the specialized window replacement market segment.
With a parent company that is over 100 years old, Renewal by Andersen has installed over a million windows in more than 200,000 homes, and our follow-up customer surveys consistently report high satisfaction with our professionalism and quality.
Some companies in the window replacement industry are notorious for high pressure sales tactics, price gimmicks, and other unsavory practices. Renewal by Andersen was founded with a mission to change the industry. We own the process from sales through installation and service.
Since opening our first store in 1995, Renewal by Andersen has grown to become one of the nation's largest window and patio door replacement companies. Our success is based on customer satisfaction with our products and our service.
Join Renewal by Andersen and you will give your career both a solid start and a long-term opportunity for rewarding growth. Our continued success depends on creating a diverse workplace that cultivates innovation, creativity and problem solving skills, and we welcome the unique skills and talents of individuals with varying backgrounds.
We invite you to joins us-to learn, acquire lifetime skills and take on exciting, important challenges. In return, you will find that Renewal by Andersen provides opportunities and room for career growth!
Not Ready To Apply?


---
Benefits
Medical
Dental
Vision
Long Term Disability
Short Term Disability
Employee Assistance Program
Flexible Spending Accounts: -- Health Care & Dependent Care
Life Insurance
Accidental Death and Dismemberment
Success Sharing
Retirement Plan
Professional Development: -- Tuition Reimbursement -- Andersen Corporate University
---
Mission and Values
Our windows and doors spring from a firm foundation.
In an era when many corporations are re-examining their values, it's reassuring to know that Renewal by Andersen continues to do business based on tried-and-true principles. We know that in any relationship – certainly our relationship with our customers – trust and respect are essential. Our mission and values flow from that core understanding.
Customer Focus-We are committed to understanding our homeowner customer's real needs and expectations, and exceeding them. We recognize that a delighted customer is our best recommendation to future business.


Safety-We are committed to the safety and well-being of the people who come into contact with our products.


Excellence-We set high standards for our professional performance, our products and our service. We are committed to continuous quality improvement in all that we do.


Integrity-We are committed to working fairly and honestly with all those with whom we come in contact.


Innovation-Our motto "different and better" connotes innovation, plus aesthetic and economic value going beyond the expected into the surprising.
---