Project Nia, Inc.
Private
Sales - Marketing
Consulting
Retail
< 100 Employees
Headquartered in San Antonio, TX
5 Active Jobs



Located in the diverse city of San Antonio, TX, Project Nia, Inc. is a dynamic direct marketing and sales firm with a growing portfolio of multi-billion dollar clients. Presently, we represent one of the largest satellite broadcasting and entertainment clients, bridging the gap between their brand and local consumers. 

Project Nia Inc's professionally trained marketing and sales representatives meet face-to-face with qualified customers in retail locations across San Antonio. Why face-to-face? We have found that the most effective way to build a relationship with a potential customer is to engage with them in person, rather than over the phone or via email.

For our clients, Project Nia, Inc generates new customers and streams of revenue on a daily basis; for our team members, we provide ongoing opportunities for personal and professional growth. The work we do at Project Nia, Inc. is meant to benefit all entities involved, from our customers and clients to our company and team members!
---
Bulletin Board
We are excited to introduce you to our Human Resources Manager, Alexis! Swing by our
blog
to read all about this stud. A few fun facts - She is from Louisiana and loves to sing! 
---
Our team is ready to face any challenge thrown our way! Are you interested in hearing more about what we do here at Project Nia Inc? We've got the
video
for you! Check it out to learn more about our dynamic team.
---
Our team members are doing exceptional work here at Project Nia, Inc! We are proud to announce our newest Manager, Jose! Jose has finally found a career that worked for him, and he has come a long way to get to this big moment. Congratulations, Jose! Learn more about him and his success story by reading about him on our
blog
.
---
Culture
The culture at Project Nia, Inc. is extremely team-oriented and opportunitisic. By that we mean a high emphasis is placed on camaraderie, ensuring that the development of the group trumps the focus on just one individual! Whether we're hosting team BBQs, an office potluck, dodgeball wars, or an office-wide raffle, the sole purpose of the culture at Project Nia, Inc. is to promote cohesion and unity. With an emphasis as well on entrepreneurialism, each team member has the opportunity to forge their way through intensive leadership development into leadership and management roles in: marketing, sales, human resources, bookkeeping, advertisement, and social media management.
---
Careers
Careers at Project Nia, Inc. are extremely structured and growth-driven, all starting in entry level roles with advancement based on merit and performance. With a niche in face-to-face marketing & sales, all positions at Project Nia, Inc. are communication based and heavy on interpersonal interaction. 

As a new start-up in San Antonio, our company is able to offer more rapid growth and development to match the needs of our clientele and how quickly they look to expand out of the Alamo City. We look for individuals who are primarily entry level experience but laden in social and people skills. Love working with others, thrive in a team atmosphere, and look for growth based on how hard you work? Welcome home! 

Career Opportunities at Project Nia Inc:
- Entry Level Recruiter
- Account Executive
- Entry Level Sales/Marketing
- Human Resources Manager
- Manager-In-Training
---
Reasons We Love Project Nia, Inc
Benefits are limitless here at Project Nia, Inc. and vary from: 
Hands-on training from top executives in the company and industry
Consistent work schedule
Uncapped commission
Weekly bonuses & incentives
Team events hosted all across San Antonio
Performance-based growth
Company sponsored travel
---
Contact
We would love to hear from you!
Phone Number:
(210) 314-6470
Email:
hr@projectniainc.com
Address:
8301 Broadway St #301 San Antonio, TX 78209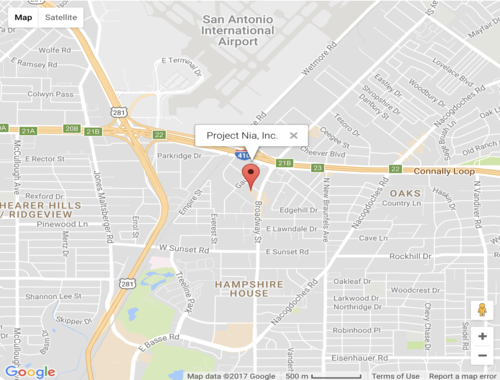 ---