Prime Healthcare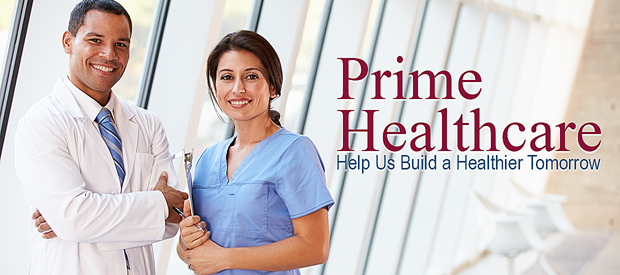 Prime Healthcare is an award-winning hospital management company operating 44 acute care hospitals in 14 states. It is one of the nation's leading healthcare service providers with nearly 43,000 employees and staff dedicated to providing the highest quality healthcare and contributing to the communities they serve. Founded in 2001, Ontario, Ca.-based Prime Healthcare is committed to preserving access to healthcare and turning hospitals into thriving, community assets. Prime Healthcare continues to save hospitals, save jobs and save lives.
Not Ready to Apply?

---
Career Opportunities
Ontario, CA-based Prime Healthcare Services is one of the largest hospital companies in the U.S. Through their subsidiaries, Prime Healthcare Services and the non-profit Prime Healthcare Foundation have more than 15,000 employees and own and operate 23 acute care hospitals. Prime Healthcare was recognized among the Top 15 Health Systems in the Nation in 2012, based on its quality of healthcare and patient satisfaction. It also earned the recognition in 2009. In 2011, nine of the eleven Prime hospitals accredited by Joint Commission, the largest Medicare accreditation organization in the country, earned national recognition as "Top Performer," (Top 14%), on Key Quality Measures. Five of the hospitals were ranked among the 100 Top Hospitals in the Nation in 2012. We welcome you to join our family of dedicated healthcare experts, and we look forward to hearing from you. Our employment benefits match industry standards.
---
Mission & Vision
Mission "Prime Healthcare Services endeavors to provide comprehensive, quality healthcare in a convenient, compassionate and cost effective manner." Vision Prime Healthcare Services is consistently at the forefront of evolving national healthcare reform. Our organization provides an innovative and integrated healthcare delivery system. We remain ever cognizant of our patients' needs and desires for high quality affordable healthcare.
---
Community
Prime Healthcare Services Foundation "the Foundation" is a 501c(3) charitable organization that takes its roots back to 1989. Initially, the Foundation began with a generous donation of 1 million dollars from its Founder and the Chairman of the Board, Prem Reddy, MD, FACC, FCCP. Each year since then further handsome donations have continued to grow this fund. Please visit our new website by clicking here! Prime Healthcare founder and Chairman Dr. Prem Reddy strongly believes in giving back to the communities we serve. Our motto, "lend a helping hand", perfectly describes our involvement in the communities that we server.
---
Contact Us
3300 East Guasti Road Ontario, CA 91761 Call Today 909.235.4400 USA
---
Equal Opportunity Employer
We are an Equal Opportunity/ Affirmative Action Employer and do not discriminate against applicants due to veteran status, disability, race, gender, or other protected characteristics. If you need special accommodation for the application process, please contact Human Resources:
hr-prime@primehealthcare.com 
---