Pacific Dental Services, Inc.
Private
Healthcare - Health Services
2,500 - 5,000 Employees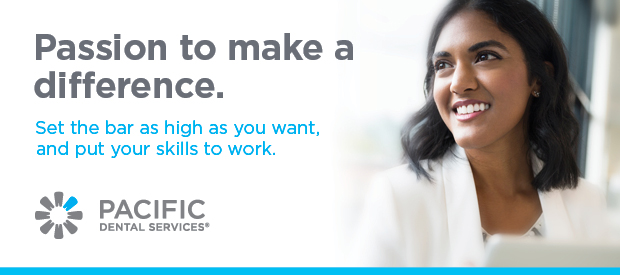 Pacific Dental Services (PDS), one of the country's leading dental support organizations, provides a full scope of business and administrative support services to dentists, including marketing, real estate, payroll, human resources, billing and accounting. Founded in 1994, PDS provides business support services for more than 300 dental practices across the western and central United States. PDS-supported offices are located in Arizona, California, Colorado, Idaho, Missouri, New Mexico, Nevada, Oregon, Texas and Utah.

In 2012, PDS was recognized by Inc. Magazine's Hire Power Awards, ranking 4th on Inc.'s list of the "Top Ten Heroes of the American Economy." PDS also ranked 1st on the Hire Power Awards list in the health industry and 2nd on Inc.'s list of top job creators in the State of California.
---
Vision
We strive to treat every challenge as an opportunity, focus on our talents and strengths, and learn from one another. Our vision is become the Greatest Dental Company in America. We do whatever is in our power in supporting dentists and team members to provide the highest quality dental care to patients of our supported offices. 
---
Culture
Corporate responsibility is an essential cornerstone of our culture. We serve with our time, resources and expertise both in the communities in which we do business and in less fortunate places around the world.

As we grow as a company, we want to help people throughout the country by promoting good dental health, making sure children have safe places to play and partnering with other charities that share our values. And in parts of the world where people will travel for hours to receive medical treatment, our supported doctors provide free dental care.

The bottom line is we want dentistry to make a difference. That's why it's dental charity. It's the legacy we can all leave behind.
---