OLN
Private
Advertising
Sales - Marketing
Sales - Marketing
100 - 250 Employees
OLN has the mindset that marketing is growing any client's business by applying a tried and true strategy. Marketing is not about being glamorous, funky or new age. Its not about reinventing the wheel. Its not about throwing financial capital towards a hopeful idea.

Its about getting the most profitable result from the most efficient approach. The Orange Ltd. Approach.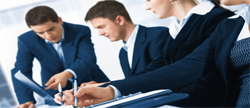 ---
Career Opportunities
The management training program at OLN starts with our Entry Level Account Manager development. Top performers will be groomed into a managing partner as a result of training. We are a promote from within company whether the potential candidate is a recent college grad or a professional with years of industry experience.
Our philosophy is that all promotion should be based on merit and not seniority. We are in a result driven industry, so the Account Managers who deliver the best results for our clients are able to move up into a management position as quickly as their results dictate.

Our results have created a win-win partnership with each client creating the demand for us to expand and continue to open new offices effecting market share in major markets. We are currently hiring for our Entry Level Account Manager position: looking for self-motivated leaders, who enjoy working in a fun, dynamic and high energy work environment.

Everyone in our company starts in the same Entry Level position allowing OLN to ensure the expertise of each of our future managers in every aspect of our business model. The goal is not only continuing to lead the industry in customer acquisition and retention, but just as importantly, the professional development of our Account Managers allowing us to continue to expand and improve market-share nation-wide.
---
Training
OLN has developed a dynamic training program designed to individually develop each Account Manager first with our sales system, but more importantly developing the entrepreneurial skills and habits making them successful managers in our organization. This education and development program that is systematic but individualized for each rep is essential for the company to continue to grow, satisfying our clients' demand for expansion into new major markets.

We believe to have a strong company we must start with a strong team of people. Internal training is the key to the consistency and strength we have at Orange. We believe in training individuals in all areas regardless of previous experience.
---
Culture
With a constant focus on expansion, the firm has adopted a popular and proven management training model that is based on the sole pillars of a superior work ethic, great attitude, and student mentally. We provide our team with a fun and energetic atmosphere and motivate them with development opportunities in a strict non - seniority based business structure.
---