Norwegian Cruise Line Holdings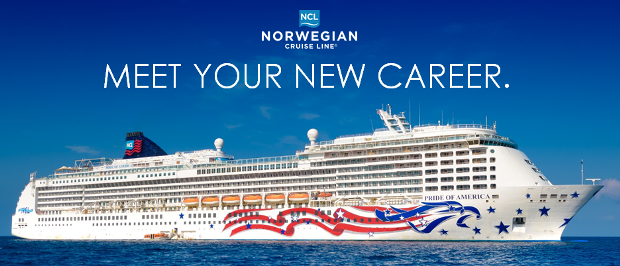 ABOUT PRIDE OF AMERICA
Inaugurated in 2005, Pride of America is the first US-flagged cruise ship in nearly fifty years.
Pride of America was designed to pay homage to the spirit of the United States, with patriotic artwork on the hull and American-themed public spaces. She is currently the only American registered major cruise ship serving the Hawaiian market from Honolulu and sails to Kahului (Maui), Hilo (Hawaii), Kona (Hawaii), Nawiliwili (Kauai). 
Because Pride of America is flagged in the United States, the ship is required to carry a U.S. crew. There are 935 crew employed on board Pride of America in a variety of Deck, Engine and Hotel positions. 
---
UPCOMING JOB FAIRS
COMING TO A CITY NEAR YOU
Check our upcoming job fair schedule and meet our recruiters to learn more about working and living on board a cruise ship! 
https://jobfaircalendar.splashthat.co

m/
---
AVAILABLE POSITIONS
Assistant Waiter - Ensures that guests are consistently provided with courteous, prompt and efficient meal service!

Cooks - Delivering products of the highest quality in terms of freshness, taste, and consistency, with strict adherence to USPH/FDA guidelines.

Bar Servers - Responsible for friendly and efficient beverage service and upselling.

Housekeeping - Maintains the cleanliness and orderliness of all guest staterooms, public, crew and surrounding areas.

Photographer - Responsible to photograph daily events, including embarkation, gangway arrivals, dining rooms, portraits and other events!

Entertainment Tech - Maintenance, repair and operation of live stage and backstage equipment for all shows performed.

Restaurant Steward / Busser - Supports the Main Dining Rooms, Buffet and Crew Mess during meal service and ensures cleanliness of these areas.

Utility (dish washing, cleaning) - Proper and efficient cleaning and sanitation of assigned areas according to the United States Public Health regulations.

Youth Staff - Responsible for the supervision and control of all youth and teen activities as it relates to the Passenger Programs and Entertainment Department.
---
APPLY TO JOIN OUR AMAZING TEAM
Norwegian Cruise Line is an industry leader in providing premium guest experiences and award-winning dining and entertainment across all of the current 16 ships. Our guests enjoy relaxed, resort-style cruise vacations on some of the newest and most contemporary ships at sea. Our award-winning fleet of purpose-built ships – the youngest and most innovative at sea – visits more than 230 destinations worldwide.

M/S Pride of America is our only ship that offers year-round weekly departures from Honolulu. Guests will enjoy seven days of island-hopping through the most picturesque destinations Hawaii has to offer!

As our company adds new ships to our existing fleet, there are more amazing opportunities to join our team!
---
BENEFITS OF WORKING ON A CRUISE SHIP
Working onboard a cruise ship is more than a job change. It's a lifestyle change! You would be working AND living onboard where you can build your career while sailing to cool destinations! The work is rewarding, but it's not easy. Crew work  7 days a week in a fast paced, demanding environment but most of our crew will tell you they've mastered the art of #workhardplayhard! 
You can save $$$!!

Room & board is covered.

Flights & transportation are covered.

Linens, towels, uniforms & laundry service are provided.

Opportunity to live and work in a multi-cultural environment.

Internal opportunities to advance your career.

You will gain invaluable life skills while working at sea.

Safety skills & awareness

Unique training & learning opportunities

Mariner skills & credentials

Teamwork & communication
---