Lifetouch Church Directories and Portraits Inc.
Public
Art - Photography - Journalism
Printing - Publishing
Sales - Marketing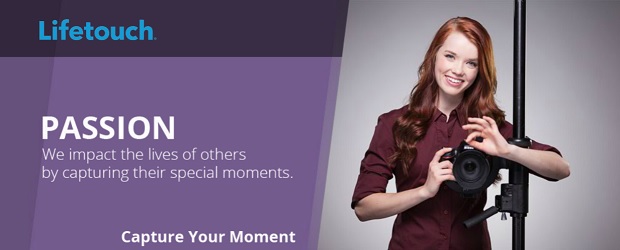 Lifetouch Church Directories & Portraits Inc., a Shutterfly Inc. company, brings families together for cherished portraits while recording historic moments in high-quality pictorial directories. Beautiful, studio-quality portraits that families love are our specialty. Showcase what makes your community special: your families by allowing us to make the memories last a lifetime.
---
Benefits
As an employee with Lifetouch, you will enjoy a fast-paced, collaborative culture and the ability to directly impact our business.

We are committed to offering competitive benefits to meet the needs of our employees and their families. Benefits vary by location.


Employee Development
We are dedicated to helping employees succeed and reach their goals through training and education.
---
Vision & Values
Everyone at Lifetouch shares the vision to be the leading photographic company providing innovative products and services that capture the spirit of today and preserve the memories of tomorrow. 

A straightforward vision statement is embraced throughout the Lifetouch organization. 

We care about people – employees, customers, and other partners as individuals, treating them respectfully and dutifully. We strive for integrity in all aspects of our business, including associations with other people, products and services that fulfill our customers' expectations, promotion and financial reporting.
We are committed to excellence and total customer satisfaction in our performance and pledge to professionally carry out our responsibilities.
Our commitment to families and communities goes beyond products and services. We're a community partner. Giving back both near and far is part of the Lifetouch culture. Our SmileSafe and Feed the Need programs, along with the Lifetouch Memory Mission, and are just some of the ways we strive to make our communities and world happier, stronger, and safer.
---