Kelly Generator & Equipment, Inc. and Kelly Generator & Equipmen
Private
Industrial
Electronics
Energy - Utilities - Gas - Electric
< 100 Employees
Headquartered in Owings, MD
1 Active Jobs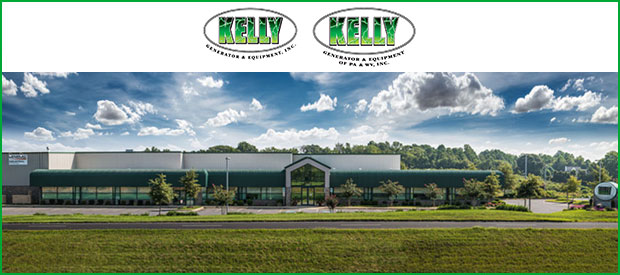 Kelly Generator & Equipment, Inc. (KG&E), established in 1992, is the Mid Atlantic distributor for Generac Power Systems. We are a coordinated rapid response organization known for the quality of our service and the reliability of our generators. During a struggling economy we not only celebrated our 25 year anniversary as a power generator distributor, but we have grown steadily in a competitive market. We expanded our territory, opening a second branch office in Coal Center, PA., serving the Western Pennsylvania area.
We offer new unit SALES, SERVICE, mobile RENTALS, as well as PARTS and TRAINING. We are different from our competition due to our prime focus on power generation. This focus makes us uniquely qualified to provide you with all of your power generation needs because POWER MATTERS.
---
Careers
Kelly Generator & Equipment, Inc., and Kelly Generator & Equipment of PA & WV, Inc., believes that the best way to run a business is to exceptional people, train them well, and provide them with an environment of mutual respect and responsibility.

Every day, our company works to gain and keep the trust of our customers and vendors. At Kelly Generator & Equipment Inc., we challenge our teams to strive for an extremely high level of professionalism, expertise and the ability to give fast, efficient customer service.

We believe in taking care of our employees and offer a comprehensive benefits package including a 401(k),  with matching, profit sharing, health, dental, vision insurance, short and long term disability, and more.

Kelly Generator & Equipment, Inc., and Kelly Generator & Equipment of PA & WV., continues to grow and is looking for top talent! 
 
Resumes can be sent to dkelly@kge.com  

You can visit our website for updates in employment opportunities at www.kge.com 
---
Mission Statement
KG&E provides our customers with quick and professional solutions to their electrical power needs. KG&E operates on three solid principles: ensure optimum quality in every product sold; professional, honest straight-forward relationships with our customers; and superior service for the life of our products.
---
Our Vision
Our vision is to be the most respected vendor for comprehensive power solutions for our marketing area. Our employee are treated fairly and respectfully and are excited to be on our team. Our customers consider our service and commitment to be unparalleled.
---
Our Values
Operate with Integrity
Operate Safely
Operate Unselfishly
Achieve Excellence through Teamwork
Have Fun
---