G-TECH
Private
Employment - Recruiting - Staffing
500 - 1,000 Employees
Headquartered in Dearborn, MI
80 Active Jobs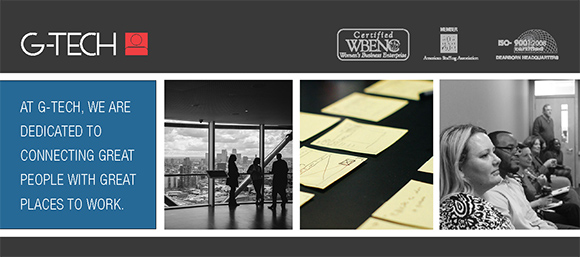 G-TECH Services, Inc. is a leading certified recruitment and placement firm that provides high-quality, flexible staffing solutions to a nationwide client base. For over 25 years, we have been guided by the philosophy, "People Powered, Performance Driven". We offer a variety of technical services, including contract and project staffing, direct placement, payroll services and co-employment training.

G-TECH is proud to be a women-owned business certified by both the Women's Business Enterprise National Council and the National Women Business Owners Corporation.
---
Mission Statement
At G-TECH, we are dedicated to connecting great people with great places to work.
---
Work at G-TECH
G-TECH's corporate team of skilled recruiters and dedicated account representatives is our greatest asset in providing high quality, responsive service to our clients and creating positive recruiting and work experiences for our candidates and contract employees. That is why we seek out energetic, resourceful, self-motivated professionals to join us in our efforts to connect great people with great places to work. Regularly recognized as one of "Metro Detroit's 101 Best and Brightest Companies to Work For", we offer our employees competitive compensation, benefits, career enhancement opportunities and the chance to do work that is dynamic, fun and rewarding.
---
Contact Us
17101 Michigan Avenue
Dearborn, MI 48126
---