Everest Marketing Group
Private
Sales - Marketing
Consulting
Telecommunications
< 100 Employees
Headquartered in Evansville, IN
4 Active Jobs



Everest Marketing Group is a progressive sales and marketing firm representing large clients in industries such as telecommunications, fiber optic technology, and satellite broadcasting. What separates our company from other direct marketing firms is our face-to-face consulting approach, creating a unique and personalized customer service experience. 

Our team at Everest Marketing Group is the source of our success. It is through their dedication and commitment that makes continuous growth and market expansion possible. We seek to work with Evansville's top talent and provide them with a work environment that is both challenging and rewarding. This philosophy puts us "At the Height of Success!"
---
Bulletin Board
Are you following
@everestmktggrp
on Twitter yet?! We tweet daily about business, leadership, and success!
---
Culture
The culture at Everest Marketing Group can be described as upbeat, positive, and ambitious. Once a week, our team gets together outside of the office for a fun activity such as laser tag, trying new restaurants in Evansville, or bowling - friends and family are always welcome! We believe that you should like being around the people you work with - it makes work so much more enjoyable! Want to see our culture in action? Visit our YouTube channel or follow us on Instagram!
---
Our Values
"When your values are clear to you, making decisions becomes easier."
~Roy E. Disney

Everest Marketing Group's core values are:


✔️Integrity
✔️
Leadership
✔️
Camaraderie 
✔️
Work Ethic
✔️
Positivity 
✔️
Dedication
✔️
Resilience
---
Contact Us
PHONE NUMBER:
812-909-3849

EMAIL: 
HR@EVERESTMARKETINGGROUP.ORG

ADDRESS:
629 INGLE ST. SUITE 200 EVANSVILLE, IN 47708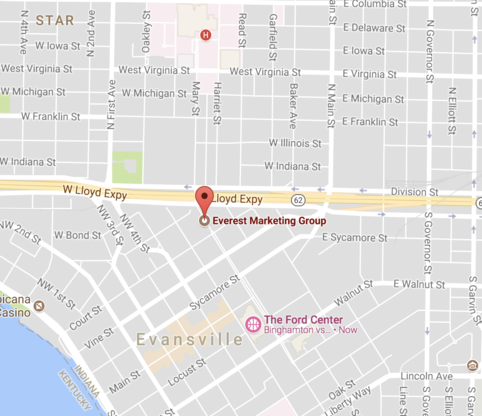 ---