Continental Structural Plastics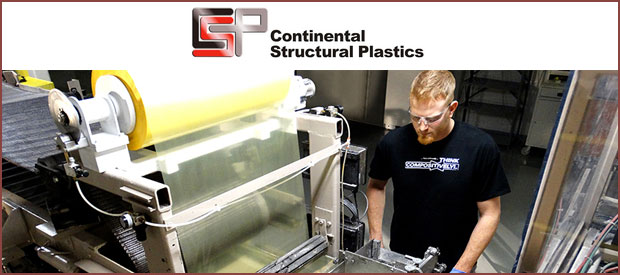 As a world leader in diversified composite technologies, Continental Structural Plastics (CSP) is reshaping the future of vehicle light weighting. We create award-winning, lightweight composite Class A body panels and structural components to serve customers in the light vehicle, heavy truck, HVAC and construction markets. Our advanced materials development team has created several patented composite formulations to help customers meet design and regulatory challenges, including our latest material advancement – TCA Ultra Lite™. This award-winning advanced composite competes head-to-head with aluminum for weight- and cost-savings, and beats aluminum on several fronts, including tooling costs, design capability and dent and corrosion resistance.

Our overall system approach (CAE design optimization, raw material selection, molding process, bonding, and prime/paint) results in the design and production of the highest quality composite parts in the marketplace today.
---
Benefits
Stay Healthy
    Medical, dental and vision care
    Flexible spending accounts
Feeling Secure
    Short-term disability
    Long-term disability
    Life and accidental death & dismemberment
    Voluntary life and accidental death & dismemberment
    Critical illness insurance coverage
    Accident insurance coverage
---
Career Opportunities
Continental Structural Plastics (CSP) is an innovative, growing Tier One automotive supplier with a global presence and a development emphasis on lightweighting technologies. And with the auto industry driving to achieve CAFÉ standards through lightweighting initiatives, we are well-positioned for industry leadership and long-term growth.

This stability, combined with a laser focus on innovation, makes CSP a great career choice for individuals interested in learning, creating and leading while working alongside some of the most innovative minds in the industry today. We are a full-service supplier with extensive, in-house R&D and engineering capabilities. Our goal is to deliver the right lightweighting technology to our OEM customers, helping them to solve a design challenge or meet emissions requirements. We also offer unique lightweight solutions for the heavy truck, agriculture and industrial markets.
---