C.H. Robinson
Public
Transportation
5,000 - 10,000 Employees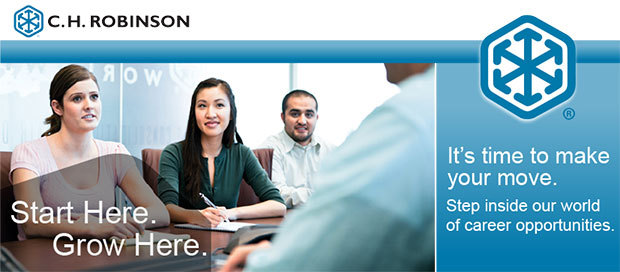 C.H. Robinson—accelerating careers with immense opportunities and professional growth within the global supply chain industry. Start here. Accelerate here.

Every individual working at C.H. Robinson is integral to the success of our customers and our company. C.H. Robinson is a Fortune 500, global company that values teamwork, initiative, accountability, and integrity from its employees. We work globally and innovate daily to enhance and execute supply chains that move goods around the world. The fast pace of the logistics industry translates into a high-energy and collaborative workplace environment. We are empowered to make decisions, help our customers grow, and accelerate our careers.

No matter the product being shipped or from which corner of the globe, C.H. Robinson can help make it happen—quickly, securely, and reliably. Through personal connections and solid relationships, our employees use their in-depth knowledge, robust tools, and global network to help customers reach their goals quickly. Whether shipping by plane, rail, ship, or truck, C.H. Robinson has the knowledge, flexibility, and dedication to deliver the goods that make our world go 'round.

Join the 12,000 employees worldwide who are accelerating their careers at C.H. Robinson.
---
Our Culture
Rich in potential.

We're drawn to motivated people who demonstrate incredible potential. Inside our walls, you can't even walk around a corner without bumping into a hardworking, impassioned individual. Our people hone their own skills while sharpening the skills of others, constantly improving output and performance. Take a sample of our employees and you'll find an assorted mix of fresh college graduates, dedicated professionals, and veterans in it for the long haul, all growing and learning together.

Redefining community.

We encourage our employees to think outside the office and extend helping hands to their local communities. Robinson Cares sponsors a variety of charity events and gives employees an outlet to participate in their communities while raising monetary support and awareness for great causes.

Work hard, play hard.

Open floorplans, low cubicles, shared workspaces. This is how we work. We're in each other's business on a daily basis. Literally. Projects are collaborative and require teamwork, so thick partitions and segregated departments are less than ideal. We're loud, enthusiastic, and passionate. We hold each other accountable for our tasks, projects, and work ethic. You can hear the cheers from another part of the office when an employee is being recognized for an accomplishment or milestone (and figure out where the cake is). We've designed our workspace to be conducive to teamwork, and we like it that way.

Mingling outside the watercooler is encouraged.

Our employees are quick to make friends within the company and spend time together outside of work. Charity events, seminars, and lunch hours are all catalysts for off-the-clock employee interaction that creates solid friendships across the organization.
---
Contact Us
C.H. Robinson
14701 Charlson Road
Eden Prairie,
MN 55347

Phone: 952-937-8500
Website: www.chrobinson.com
---
Culture
At C.H. Robinson, we invest in our people and support our employees both in and outside of the office. We provide tools and resources to help our employees focus on living a healthy life by promoting overall wellness through Physical, Financial, and Emotional Wellness. These wellness resources include:
Medical, dental, and vision insurance
401(k) and profit sharing
Employee stock purchase plan
Flexible spending accounts
Life and disability insurance
Paid vacation and holidays
Employee Assistance Program
Insurance benefits are available to all employees working 30 or more hours per week. Employees are eligible for benefits on the first day of the month following 30 days of employment.
---