Big Tex Trailers
For more than 30 years, Big Tex Trailers has been synonymous with heavy duty, professional-grade quality trailers. We understand the rigors that our units are put through each and every day. A few years ago, in 2009, we pivoted our strategy and made significant investments in our infrastructure and team to build the absolute best trailer at the best price. Also, in 2010, we expanded our manufacturing locations to include Texas, Idaho, Oklahoma, and Georgia – making us the only nationwide distributor in the trailer industry.
Our products are consistently regarded as the best in the industry because of our materials, paint, and processes. Our trailers are constructed of the best parts and components due to our unparalleled knowledge of the market. Not only do we understand our customers, but we use trailers each and every day. So we know what it means to have a trailer that works with you while you drive, while you work, and even while you play.
As a manufacturer, we provide our dealers with all the necessary resources to grow their business through our partnership. Big Tex continues to lead the trailer industry through innovation. Big Tex dealers have access to the nation's largest inventory, the industry's most diverse products, unsurpassed features, and much more. Plus, Big Tex dealers have access to the industry's shortest lead times, processes, and resources that allow customers to view Big Tex as a household name.
Understanding what customers want and need has allowed Big Tex to grow faster than any other trailer company in the industry.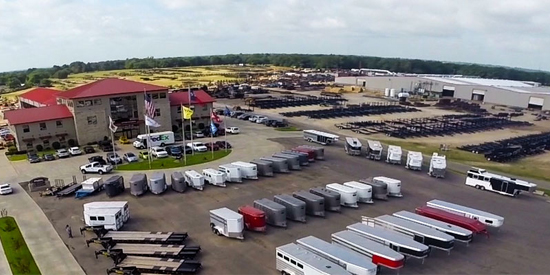 ---
Careers
Since 1982, Big Tex Trailers Inc. has grown from a small-town trailer shop into a multimillion-dollar enterprise, creating opportunities every step of the way. The secret to our success is, hire great people, give them the support they need, and push them to reach their full potential. Over a thousand intelligent employees wake up each morning and call Big Tex Trailers home. Our commitment to our employees goes far beyond a parking place and a paycheck, it is our commitment to ensure that we offer our employees stability, safety, and the ability to reach their full potential. Reaching this potential is what is most important to us and makes the industry leading product we build even better.
---
Contact Us
Big Tex Trailers
Pleasant 950 I-30 Mt.Pleasant,
Texas 75455
---