Andersen Corporation
Private
Manufacturing
Building Materials
5,000 - 10,000 Employees
17 Active Jobs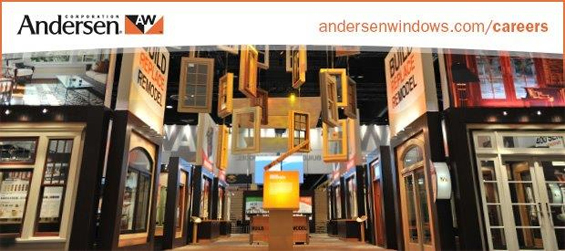 Headquartered in Bayport, Minnesota, Andersen Corporation is the largest window and door manufacturer in North America. Andersen is an international corporation employing more than 9,000 people in locations across North America, with sales worldwide.

Andersen Corporation's family of brands include:

•Andersen® Windows & Doors
•Renewal by Andersen® Window Replacement Services
•Silver Line® Windows & Doors
•American Craftsman® Windows & Doors
•Andersen® Storm Doors









---
Benefits
Medical
Dental
Vision
Long Term Disability
Short Term Disability
Employee Assistance Program
Flexible Spending Accounts: -- Health Care & Dependent Care
Life Insurance
Accidental Death and Dismemberment
Paid time off
Paid holidays
Success Sharing
Retirement Plan
Professional Development: -- Tuition Reimbursement -- Andersen Corporate University
---
Vision & Values
OUR VISION
Andersen's vision is to lead the window and door industry by creating products and services that are different and better as measured by our customers.

OUR VALUES
Values define us. They speak to our past and guide our future. They are the foundation of what makes us Andersen.

EXCELLENCE - We will build customer trust and loyalty by understanding and caring about exceeding customers' expectations for enduring quality and responsiveness.

INTEGRITY - We take pride in our commitment to do the right thing by demonstrating fairness, integrity and high ethical standards in all of our actions.

INNOVATION - We will uphold our legacy of innovation and embrace change in all areas of our business as a means of attaining and sustaining leadership.

PARTNERSHIP - We will cultivate successful relationships with everyone in our business circle and strengthen them through shared values, common goals and active participation.

CORPORATE CITIZENSHIP - We will continue our longstanding commitment to leadership in environmental stewardship and to make a positive impact in the communities in which we live and work.
---
Culture
At Andersen, our vision is to lead the window and door industry by creating products and services that are different and better, as measured by our customers.
 
Andersen employees are at the heart of the company's success. For more than a century, the strength of everyone at Andersen has defined the company's position as the leader in product innovation, design, construction, performance and customer satisfaction.
 
Focusing on our employees, we remain committed to excellence, product performance, environmental stewardship and corporate citizenship. That commitment has helped Andersen grow into a widely admired organization with thousands of employees located across the United States and North America.
 
Behind every innovation, every new product and every stellar customer experience there are employees committed to making the window and door buying and owning experience the best it can be.
 
Andersen. Welcome Home.

---
Diversity
At Andersen, we value individual differences and leverage these unique capabilities and perspectives to better understand our customers and grow our business.

We are committed to demonstrating mutual respect and appreciation of our similarities and differences (for example, race, color, culture, gender, sexual orientation, religion, education, ethnicity, age, language, physical ability and thought) so that each employee can realize his/her potential and we exceed our customers' expectations.


By building a diverse workforce, we are living our values, cultivating innovation and strengthening our culture. Our founding father, Hans Andersen, believed in the philosophy of All Together. This spirit of everyone working together to achieve business goals and delight our customers is still alive today as we embrace diversity in all forms.
---