All Star Automotive
Private
Automotive - Motor Vehicles - Parts
500 - 1,000 Employees
Headquartered in Baton Rouge, LA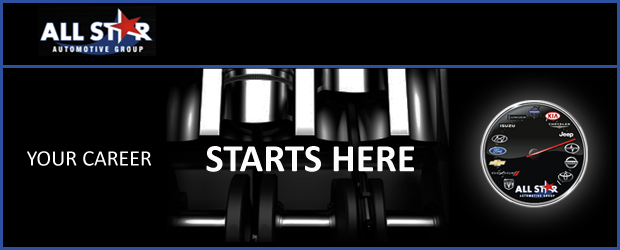 All Star Automotive Group was started in 1987 by LSU Alum Matt McKay and his business partner John Noland. Since that time, All Star purchased an average of 1 dealership every two years. In 2008 Matt McKay bought out his partner. In 2010, In spite of the recession, Matt McKay purchased 2 additional dealerships and 2 additional collision centers. A few weeks after that announcement was made, the Baton Rouge Business Report named Matt the 2010 Business Person of the Year for years of leadership, growth & success of company, and years of contributions to quality of life in the community. Today All Star is the Largest Automotive Group in the state of Louisiana and includes 6 Collision Centers, 12 Dealerships and represents 14 Manufacturer Brands.
---
Career Opportunities
We believe our employees are our greatest asset. As such, we treat all employees with respect and appreciation for their contributions to the company. We believe not only in providing ongoing training, but also rewarding outstanding effort and results through bonus and commission programs.
---
Contact
All Star Automotive Group

13000 Florida Blvd
Baton Rouge, LA 70815

Phone: (225) 298-3210
Fax: (225) 298-3220
---