Sleepy's, LLC
Public
2,500 - 5,000 Employees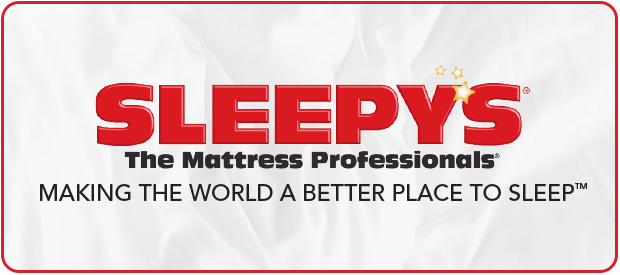 Dynamic. Energetic. Professional. Crazy about sleep. If this is you, then Sleepy's might be the place to begin your new career.

Sleepy's has been leading the great-sleep business since 1957. We are always growing and expanding into new markets. So we are always looking for new members to join our growing team of sleep-loving professionals. Our employees are tirelessly, relentlessly, passionately committed to achieving 100-percent customer satisfaction. Empowered with ongoing training and skill development, the Sleepy's workforce helps make the world a better place to sleep.

Our success depends on your success, so we make sure our employees enjoy a comprehensive benefits package and incredible career development opportunities.

Making the World a Better Place to Sleep…Begins with You.

Are you ready to represent one of the largest mattress retailers in America?

Sleepy's is an Equal Opportunity Employer M/F/V/D
---
Benefits
Visit our website at www.sleepys.jobs for a complete listing of all available benefits.
---
Work Environment
Professionally Fantastic!
Our employees are the face, name and voice of our brand. We value that our company is represented by great, talented individuals and therefore, we value the environment they work in. With our extensive benefits, company perks and our positive and proactive work environment, we strive to make this a place where people can grow and ultimately enjoy coming to work each day. We are a team of approachable professionals, where no idea is too small and there is no such thing as complacency. Sleepy's is where it is today, because we embody a team of true professionals with an aptitude for success.
---
Training & Development
To be the best in any industry you need to know your products and brand inside and out. Our state-of-the-art sales training program offers our team a secure and comprehensive foundation for success.. With an extensive internal training department, every employee is given the tools and support to continue their learning and development throughout their career. Our e-learning and continuing education classes keep our staff up-to-date on the latest and greatest in all things bedding. Not to mention the hands on, one-on-one training available for all of our corporate positions.
---
Diversity
Sleepy's is proud to be an Equal Opportunity Employer M/F/V/D.
---
Number of Employees
Here at Sleepy's, we're 2,500+ strong and growing. Our employees are the building blocks that help to grow, shape and mold the continued development of our company. We value each and every employee on our team and dedication is always appreciated.
---