Sbarro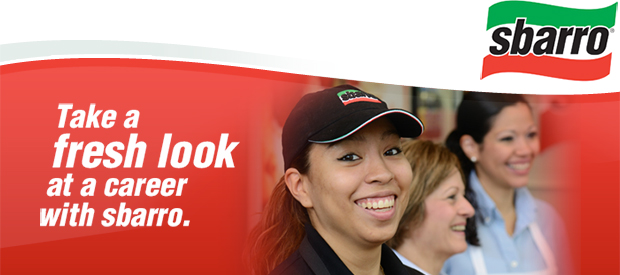 The Sbarro name is synonymous with delicious Italian food that guests can count on for quality and taste. Our founders Gennaro and Carmela's tradition of providing authentic Italian dishes and flavors in Sbarro restaurants around the world is continued by the company's 6,000 employees. At Sbarro, we serve fresh, traditional Italian cuisine that our cooks prepare in exhibition kitchens while guests relax in a casual atmosphere. Our famous pizza is only the beginning of the Sbarro culinary adventure. We offer sumptuous entrees, pastas, salads, sandwiches, and homemade desserts - tastes to fit every palate. Our contemporary Italian design, with sleek finishes, bright lighting, and an open kitchen is offset by cozy seating to create an environment that is interesting, lively and comfortable. Friendly, attentive service and genuine hospitality is what makes Sbarro the perfect place for social, business and group dining.
---
Our History
A Family Tradition

Sbarro's roots go back to Naples, Italy where for Gennaro and Carmela Sbarro the art of crafting Italian cuisine was a way of life. The couple and their three sons, Mario, Joseph and Anthony, immigrated to America in 1956 to pursue their dream of owning a successful business in the U.S.

That same year the Sbarro family opened their first Salumeria (Italian grocery store) in Brooklyn, which was soon a neighborhood favorite for its exceptionally fresh food and authentic Italian fare, including homemade mozzarella, imported cheese, and delicious sausage and salami.

The quality of the food was surpassed only by the Sbarro family's extraordinary passion for their guests, a people-oriented foundation that continues to translate into the highest standards of guest service today.

The success of the Sbarro Salumeria led to the opening of more locations throughout the New York City area. In 1967, Sbarro opened its first mall-based restaurant in Brooklyn's Kings Plaza Shopping Center, marking the birth of the modern Sbarro concept: delicious, fresh and authentic Italian food in an open kitchen that allowed for fast self service. Since 1967, the King's Plaza business model has been replicated over 1,000 times - helping Sbarro expand throughout the U.S, and the rest of the world.

In early 2007, Sbarro was acquired by MidOcean Partners, a premier private equity firm with offices in New York and London.
---
Career Opportunities
As one of the largest quick service Italian restaurant chains in the world, we attract individuals looking for a rewarding job and a potential career in the restaurant business. You'll join a dedicated team of professionals that add their own special ingredient of fun to the successful recipe that has been Sbarro for years. At Sbarro we take pride in offering the opportunity for growth. Here are a few of the paths your career can take: Begin as a Crew Member: Once you master the various positions, you become eligible to enter our training program for Assistant Managers. Begin as an Assistant Manager or Co-Manager: After mastering these roles at your own pace, you would be eligible for a General Manager position. Once promoted, your would enter our training program at one of our Regional Training Units lead by a seasoned General Manager. Begin as a General Manager: After mastering this role, you may be considered for an Elite Trainer position, Regional Training Unit General Manager position or Director of Operations.
---
Culture
As part of our team, you will enjoy a comprehensive package of compensation and benefits including: •Highly Competitive Compensation •Monthly Performance Bonuses •Comprehensive Benefits - health/dental insurance, life insurance, short-term disability, 401(k), flexible spending account •Meal Discounts •Training •Career Pathing Sbarro Management Training People are the greatest asset at Sbarro. We make a significant investment in training and development of all employees, with specific emphasis on the foundation training of new Managers. We provide detailed and innovative training programs for Assistant Manager, CO-Manager and General Manager positions. Our management development system provides initial and on-going training and support that prepares new Managers to accomplish business goals, achieve results and succeed. Our management training programs are geographically centralized to ensure that all MIT's receive consistent training under the expert teaching of certified trainers. We are committed to the professional and personal growth of our management teams and strive for excellence.
---
Our Food
Sbarro has always been committed to serving quality foods with the freshest ingredients.

Pizza - Hand-tossed dough, made fresh daily and topped with only the finest ingredients, are the reasons Sbarro pizza is famous worldwide.

Pasta - Nothing says "Italy" quite like pasta—and no one makes authentic Italian pasta creations like Sbarro. Our secret? Original family recipes using only the highest quality 100% semolina pasta.

Salads - A fresh, crisp salad—like our Garden Salad, Caesar Salad or our Pasta Primavera—makes the ideal complement to any Sbarro meal.

Entrees - Mama Sbarro's signature entrée recipes are lovingly prepared every day with the finest ingredients and cooked to perfection, ensuring you get an authentic taste of Italy in every bite.

Desserts - Our carefully baked desserts are a perfect ending to a delicious meal and Mama Sbarro's New York-Style Cheesecake is the richest, creamiest cheesecake there is.
---