Santander Bank N.A.
Public
Banking - Financial Services
10,000 - 25,000 Employees
274 Active Jobs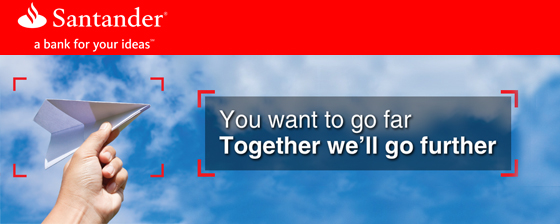 Santander in the US
Santander Bank is one of the top retail banks in the United States based on deposits, with principal presence in Connecticut, Delaware, Maryland, Massachusetts, New Hampshire, New Jersey, New York, Pennsylvania and Rhode Island. From our US banking headquarters in Boston, Santander is focused on serving the financial goals of our customers and business clients through our 700 branches, nearly 2,100 ATMs and 9,000 employees.
Santander Holdings USA, Inc. (SHUSA) is a wholly-owned subsidiary of Banco Santander. SHUSA owns 100% of Santander Bank, N.A. and 60.5% of the common stock of Santander Consumer USA Holdings Inc., a Dallas, Texas-based national vehicle finance and unsecured consumer lending company.
Santander Worldwide
Founded in 1857, the Santander Group is one of the largest banks in the world with 102 million customers, 14,500 branches and 190,000 employees. As a leading bank in the United Kingdom, Latin America and Europe, Santander is geographically and financially diversified. We were recognized in 2012 as Best Global Bank by Euromoney, ranked as a top Greenest Global Bank in 2013 by Bloomberg BusinessWeek and named 2013 Sustainable Global Bank of the Year - Transactions by the Financial Times.
Not ready to apply?

---
Career Opportunities
At Santander, we believe that our ongoing success depends upon a skilled, satisfied and valued work force. That is why we are committed to delivering extensive training, support from management at all levels, and competitive pay and benefits.
Benefits
We believe our diverse benefits program is crucial to attracting and retaining great team members. Our benefits plan offers team members choices based on individual needs and interests, including:
Paid Time Off Program

Health & Welfare Benefits

Retirements Savings Program with Employer Match

Employer Paid Life and Disability Insurance

Tuition Reimbursement

Team Member Banking & Loan Discounts

Flexible Benefit Suite, including Adoption Assistance,

Fitness Program and Computer Purchase Program
---
Community
Santander is committed to the communities in which our customers and employees live and work. We show this commitment through a broad array of corporate social responsibility programs, support for higher education, charitable grants through the Santander Bank Foundation and financial support for low- and moderate-income communities.
Learn More

Santander Universities
- Santander Universities, a global division of Banco Santander, was created in 1996 with the conviction that supporting higher education is the best way to contribute to economic and social development. The Global Division has agreements with more than 1,100 academic institutions in 20 countries, including Argentina, Brazil, Belgium, Chile, China, Colombia, Germany, Ghana, Mexico, Poland, Portugal, Puerto Rico, Qatar, Russia, Singapore, Spain, USA, United Kingdom, United Arab Emirates and Uruguay.
Learn More
The Santander Bank Foundation
- The Santander Bank Foundation focuses on strengthening our communities, with emphasis on programs geared to low- and moderate-income individuals and families across the Bank's area of operations. Through grants to charitable organizations and volunteerism programs, the Foundation aims to impact key areas of community life, including affordable housing, workforce development, financial stability, education and health and well-being.
---