Hewlett Packard Enterprise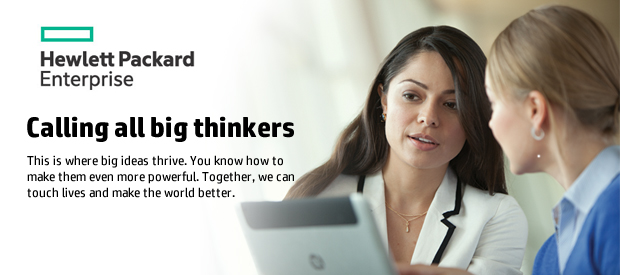 Hewlett Packard Enterprise is an industry leading technology company that enables customers to go further, faster. With the industry's most comprehensive portfolio, spanning the cloud to the data center to workplace applications, our technology and services help customers around the world make IT more efficient, more productive and more secure.
---
Benefits
HP's reputation for innovation and tradition of employee empowerment make it easier to attract great minds. Our insistence on the highest ethical standards makes us a company customers want to do business with. Taken together, these qualities make us a company people really want to work for. And being a great place to work has always been good business. Ready to see how far your ideas can take you? Visit us online at www.hp.com/go/jobs and complete a profile. Hewlett-Packard is an Equal Opportunity Employer, committed to diversity in the workforce.
---
HP business groups
Consumer − Handhelds, notebooks, printers, cameras and beyond. When you join our Consumer group, you'll be focused on delivering simple, rewarding experiences to hundreds of millions of customers. However people choose to express themselves, you'll help make it easier, faster and more fun.

Small and Medium Business − HP provides a complete portfolio of data center, office computing, and imaging and printing products, solutions and services to business customers worldwide. By simplifying the ownership experience, you'll help our customers spend less time worrying about workflow, and more time doing the things they do best.

Large Enterprise Business − Big organizations face big challenges. HP combines hardware, software, services and partnerships to address business and IT challenges. When you join HP, you'll see how our expert global resources help customers assess, architect, integrate and manage their IT environment. And how our technologies transform the enterprise business from cumbersome to capable.

Public Sector, Health and Education − Managing costs. Increasing quality. Remaining agile in an ever-changing world. You'll be providing public sector, education and health enterprises with the solutions they need to drive results, do more with less and deal with constant change under tighter budget constraints than ever before.

HP Labs − Join our HP Labs and help deliver breakthrough technologies and advancements that provide a competitive advantage and create business opportunities beyond what's currently possible.

HP Corporate − Corporate's functions, including Human Resources, Finance and Administration, Legal Affairs, and Information Technology, are the infrastructure of the company. If you work with HP Corporate, you'll be providing the support our other divisions need to compete and win on a global level.
---
University recruiting
HP can help you get an early start on your career. Our internship and graduate opportunities span many areas and many countries. No matter what your background, if you have great ideas, HP will challenge you to pursue them. Our training and resources provide the momentum to propel your career. Your future starts here. To find current internships and/or graduate job opportunities, go to www.hp.com/go/jobs.

The expertise and degrees we need vary by location. Generally, we look for graduates holding the following types of degrees:

Computer Science
Computer Engineering
Chemical Engineering
Material Science
Mechanical Engineering
Electrical Engineering
Information Technology
Management Information Systems (MIS)
Accounting/Finance
Marketing
Business Administration
---
Culture
Our Total Rewards program offers competitive, performance-based pay, and our health plans and retirement and savings package are tailored to your needs. We believe when excellent performance is acknowledged and rewarded, people are motivated and work smarter. Here are some of the areas we typically hire for: Technical Hardware Design Engineer Software Development Engineer Firmware Engineer Response Center Engineer IT Architect Product Engineer Solutions Architect Technical Consultant Supply-Chain Engineer Inside Sales Representative Business Financial Analyst Business Analyst Product Marketing Manager Business Developer Solutions Consultant Support Consultant Account Services Manager Planner Human Resources
---
Our approach
We believe technology has the power to change the world for the better, and we work every day to put new ideas at the forefront of that change. We encourage everyone at every level of HP to not only express their ideas, but to use the resources and expertise of our company to bring them to life. And if those big ideas come from you, you'll see firsthand our culture of success in action, recognizing and rewarding the inspired thinking that moves the world.
---