Chevron Phillips Chemical Company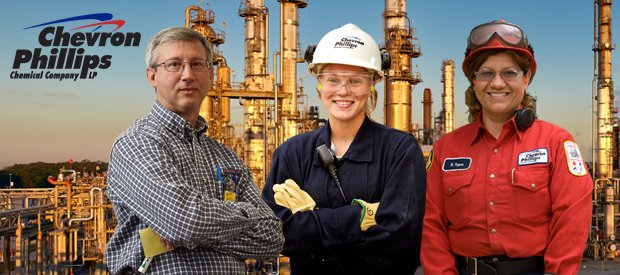 On July 1, 2000, Chevron Corporation and Phillips Petroleum Company, now ConocoPhillips, combined its worldwide petrochemical businesses, excluding Chevron's oronite additives business, to form Chevron Phillips Chemical Company LLC. Chevron and ConocoPhillips each own 50 percent of Chevron Phillips Chemical.

-Chevron Phillips Chemical is one of the world's top producers of olefins and polyolefins and a leading supplier of aromatics, alpha olefins, styrenics, specialty chemicals, piping, and proprietary plastics.

-Chevron Phillips Chemical produces chemical products that are essential to manufacturing over 70,000 consumer and industrial products.
Chevron Phillips Chemical has almost $7 billion in assets.

-Chevron Phillips Chemical operates 38 production and research facilities worldwide.

-Chevron Phillips Chemical is headquartered in The Woodlands, Texas (north of Houston).

-Chevron Phillips Chemical has approximately 5,300 employees worldwide.

Facilities
Chevron Phillips Chemical currently has 32 production facilities located in the United States, Puerto Rico, Singapore, China, South Korea, Saudi Arabia, Qatar, Mexico and Belgium.


Significant Projects
-Inauguration of the first of three planned world-scale plants in Qatar.
-Expansion of the Al Jubail, Saudi Arabia aromatics complex will create one of the largest styrene facilities in the world.
-Built the largest loop slurry high-density polyethylene plant in the world at the Cedar Bayou, Texas complex in conjunction with BP Solvay.
-St. James, LA styrene plant completed a multi-million dollar capacity increase and modernization.
-Expansion of cyclohexane capacity at Port Arthur, Texas plant.

Research & Technology
-Chevron Phillips Chemical has six research, technology and quality control centers worldwide. These facilities provide full-scale petrochemical and polymer research including new catalyst development, product and process development, and commercial process support.

-Chevron Phillips Chemical employs more than 330 scientists, researchers, and engineers in its research facilities.

-Facilities conduct a full range of research activities, including laboratory/bench and pilot scale experimentation, analytical and mechanical testing, patent support, and technical and service support for customers worldwide.

-Chevron Phillips Chemical's state-of-the-art plastics technical centers are equipped with the latest processing and testing technology for molding and extruding of polymer and copolymer resins.

-Chevron Phillips Chemical currently holds more than 2,000 domestic and international patents.

-Chevron Phillips Chemical's loop slurry process for HDPE production is one of the most widely licensed processes in the world with more than 85 commercial reactor facilities utilizing this technology.

Centers:
-Bartlesville Research and Technology Center - Bartlesville, Oklahoma
-Kingwood Technology Center - Kingwood, Texas
-Marietta Technology and Research - Marietta, Ohio
-Orange Technology Center – Orange, Texas
-Plastics Compounding and Development Center – Singapore
-Tessenderlo Quality Control Lab – Tessenderlo, Belgium
---
Benefits
A world-class team deserves benefits to match. Chevron Phillips Chemical provides our employees with a comprehensive program that addresses their physical, mental and financial health, as well as their professional development. The Chevron Phillips Chemical Benefits Package includes: -Medical, Dental, and Prescription Drug Coverage, and Vision Discount Plan -Savings Vehicles - 401(k), After Tax Medical Savings Account, Profit-Sharing, Health Care and Dependent Care Flexible Spending Account -Retirement (Pension) Plan -Retiree Reimbursement Account – Financial assistance to help eligible retirees pay for retiree medical coverage and out-of-pocket health care expenses. -Vacation - Up to six weeks paid leave depending on tenure. -Educational Assistance - 80 percent refund for tuition, textbooks, lab fees, registration and administration fees after successful completion of approved college level courses. -Company Paid Insurance - One times an employee's annual base pay for Life Insurance and Accidental Death & Personal Loss Insurance. Employees also receive Company paid Short-Term Disability and Occupational Life Insurance. -Supplemental Insurance - Long-Term Disability, Supplemental Life, Accidental Death & Personal Loss Insurance, Dependent Life Insurance -Employee Assistance Program and Behavioral Health Plan -Immediate Rewards Program - Cash rewards for superior performance that resulted in a significant financial gain for the Company. -Employee Incentive Program - Cash rewards for superior company and award group performance. -MERIT Program - Increases in base pay as a result of an individual's contribution to the overall succes of the Company. -Training Opportunities - Courses provided to upgrade an employee's overall skill set. -Company Perks - Discounts on purchases such as computers, new cars, office supplies, books, and music. -Business Travel Accident Plan - Benefits if an eligible employee is seriously injured or dies in an accident while traveling on Company business. -Service Awards - Granted to employees for every five years of service from their 5th to 50th anniversaries. -Disaster Relief - Paid time off and hardship loans from the Company. -Matching Grants - Company matched gifts up to $500 for accredited organizations. -Educational Scholarships for Dependents -Relocation Assistance
---
Vision
We have the chemistry, the technology and the talent to define our industry. And we're continually looking for exceptional individuals to join our talent pool. So what do we look for in our employees? Adaptability. Energy. Positive disposition. Drive for results. Customer focus. The list goes on and on. We have high expectations for our employees and we're interested in hiring the best.

With 5,500 employees worldwide, in excess of $6 billion in assets, 32 manufacturing facilities plus six research and technical centers in eight countries, Chevron Phillips Chemical has the people, assets and technology to pursue chemical opportunities on a global scale.
---
College
Navigate your career in the right direction with Chevron Phillips Chemical. Whether you're looking for an internship or your first job, Chevron Phillips Chemical offers the opportunity to kick-start your career with hands-on experience.

Internships
Are you ready to put what you've learned in class into action? Interns can expect to get real-world, project experience with Chevron Phillips Chemical. That means you won't be running errands, setting up files, or answering phones. We assign project work instead of busy work so you can enhance your classroom knowledge with the information and experience you need to launch your career.

New Hires
Securing your first job can be an intimidating process. You want to ensure that the company you work for is moving in the right direction and will value you as an employee. With 5,300 employees worldwide, Chevron Phillips Chemical offers all the vitality of a new organization with all the security of an established company.

We are a new company with a long history of success. Formed as a joint venture company in July 2000, Chevron Phillips Chemical represents the chemical assets of Chevron Corporation and ConocoPhillips – companies with over 50 years experience (each) in the chemical industry.

Our work environment welcomes creative thinking and encourages employees to expand their expertise on the job. With lots of opportunity for growth, Chevron Phillips Chemical is looking for employees who are dedicated to helping pave the company's success.
---
Diversity
At Chevron Phillips Chemical, we view diversity as more than just a country of origin, age, or race. Diversity is about the blending of experience levels, cultures, talents, competencies, differing perspectives, and decision-making styles. We embrace a culture that respects unique differences and recognizes the perspectives of all our employees.

We encourage global communication between our employees because the best solutions are developed when people from a variety of backgrounds come together to build upon each other's knowledge. Much like the blending of high-quality ingredients makes a superior chemical product, blending the unique skills and talents of a diverse workforce creates a superior chemical company.

Diversity in all its possibilities is valued at Chevron Phillips Chemical. It is fundamental to the quality of our products and services, and is crucial to our continued success.
---
Products
-Olefins & Polyolefins - Ethylene, Polyethylene, Normal Alpha Olefins, Polyalpha Olefins, Propylene, Polypropylene, and High-Density Polyethylene Pipe, Conduit and Pipe Fittings.

-Aromatics & Styrenics - Cyclohexane, Paraxylene, Styrene, Polystyrene, Benzene, K-Resin® styrene-butadiene copolymers (SBC)

-Specialty Products - Mercaptans, Mining Chemicals, Soltex® Drilling Mud Additive, Ryton® polyphenylene sulfide (PPS), TrackTek™ Racing Fuels, Specialty Organosulfur Compounds

Primary Brands
-Aromax® benzene production technology is the lowest cost process for on-purpose production of benzene.
-K-Resin® styrene-butadiene copolymer (SBC) is the number one brand of SBC in the world.
-Marlex® polyethylene is a premium extrusion and rigid packaging resin.
-MarFlex® polyethylene is a superior flexible packaging resin.
-Ryton® polyphenylene sulfide (PPS) is a high performance engineering polymer known for dimensional stability and resistance to corrosive and high-temperature environments.
-Soltex® drilling mud additive is a high-temperature/high-pressure fluid loss control additive for water-based muds.
-TrackTek™ Racing Fuels are specifically designed for use in high-performance engines.
-Scentinel® Gas Odorants are added to natural gas to give it a distinctive smell.
---