Austal USA, LLC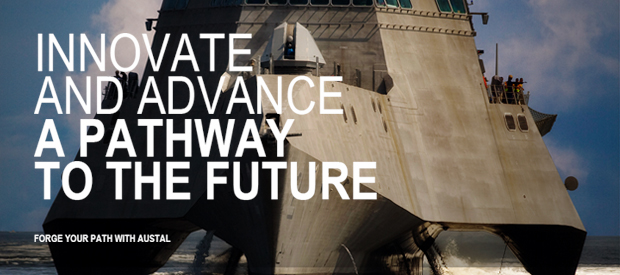 Austal commenced operations in 1988 with a vision to build high quality commercial vessels for the international market. Today, Austal is a global defence prime contractor and world leader in the design and construction of customised aluminium defence and commercial vessels, and is proud to list amongst its customers many of the world's leading ferry operators and defence forces.

With shipyards in Western Australia, the United States of America (Mobile, Alabama) and the Philippines, Austal has delivered more than 220 vessels for customers around the world. Austal's product range includes passenger and vehicle-passenger ferries, patrol boats, theatre support vessels, combat ships, multi-role vessels and luxury private live-aboards. Austal is an established provider of worldwide vessel maintenance and management services. Austal also designs, installs, integrates and maintains sophisticated communications, radar and command and control systems.

Austal listed on the Australian Stock Exchange in December 1998 and has diversified its product base through the acquisitions of Western Australian shipbuilding companies Image Marine and Oceanfast, and Canberra-based Australian Technology Information. Austal's USA shipyard was established in late 1999, and is now one of the largest employers in the Mobile area.

The company also provides vessel support services from its facilities in the United States, Australia, Europe, the Caribbean, and the Middle East.
---
Value
Excellence
We work hard to be the very best at what we do, every day
We never rest on past achievements or accept the status quo
We always seek a better way to improve our customer relationships,
our innovative designs, our productivity, our safety and quality standards

Customer
Our customer is the focus of everything we do

Integrity
Every interaction with our customers, our people, and our suppliers is with respect,
honesty and transparency

Teamwork
By working as a team we can achieve anything
We all have an important role to ensure Austal's ongoing success.
We value each other's contribution.
---
Contact Us
Austal Usa, LLC
1 Dunlap Drive Mobile, Alabama 36602 USA
---