Arrow Exterminators Inc.
In 1964, our founder Starkey Thomas started Arrow Exterminators and it remains a family owned business still today. With nearly 100 service centers operating in 10 states, we are the 6th largest pest control company in the U.S, the 2nd largest privately owned. Our mission has been to provide superior, quality pest control & termite protection services to our customers in the most environmentally responsible manner. We strive to continually improve our professional standards, knowledge, and efficiency to assure customer satisfaction.

Arrow is a full-service company specializing in Pest Control, Termite Protection, Mosquito Prevention and Control, Fire Ant Control, Wildlife Control and Exclusion Services, Handyman Services, Insulation Services, New Construction Treatments and providing documentation for Real Estate Transactions. We offer these services in both residential and commercial situations.

At Arrow, we pride ourselves on going BEYOND THE CALL® because this business is OUR calling and we are committed to protecting your family's health and property while caring for our environment. We're large enough to offer a variety of pest control services at affordable prices and we're small enough to know our customers - the way a good business should. Thank you for giving us the opportunity to serve you.
---
Career Opportunities
At Arrow Exterminators, our goal is to achieve brand name identity with a reputation and image that reflects the highest quality and class. In order to achieve our goals, we must attract and employ the brightest people both in and outside the pest control industry. We want to provide you with a career path that will enable you to lead a productive and prosperous life.
Arrow can provide you the opportunity to launch your career in a multitude of various business segments within our industry. Regardless of whether you are ready for an entry-level position in a new career, or you're an experienced individual in the pest control industry ready to grow with an aggressive, expanding company... Arrow could be the right choice for you.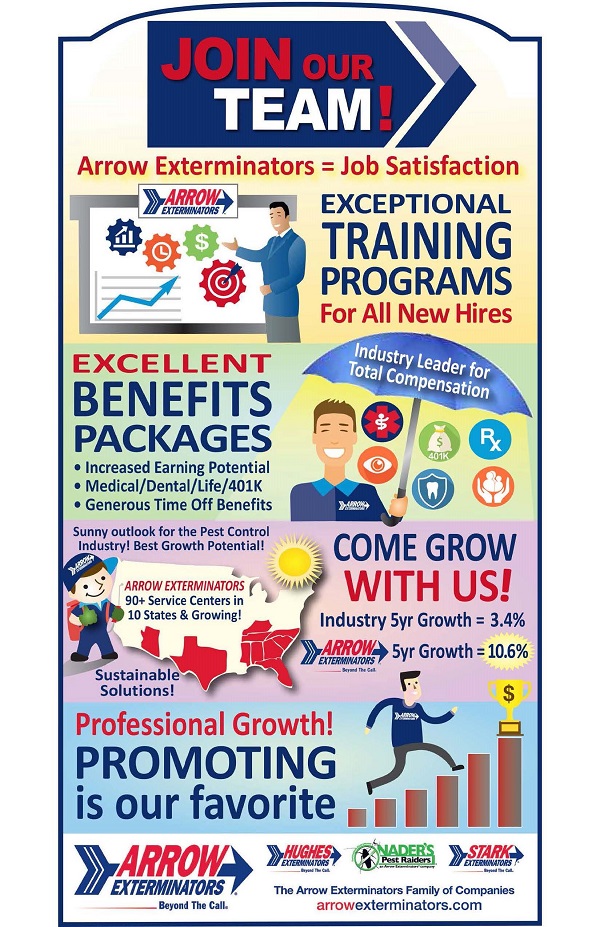 ---