Employers across the globe vary holiday time for workers
Justin Thompson, CareerBuilder Writer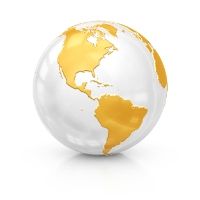 Would you be surprised to learn that the United States is one of the countries with the least generous amount of regulated paid holidays? That's because there is no
"national" vacation policy
, per se. While some countries mandate time off for all workers, the U.S. has no
federal law
that requires employers to pay workers for time not worked. However, employers often make up for it in flexible schedules and allotted time off.
Consulting and outsourcing company Mercer has released a report titled "Worldwide Benefit and Employment Guidelines," which analyzes employee regulation and employment practices in 62 countries. Many companies with a global presence use this report to tailor employment benefit policies across multiple countries.
According to Mercer, holiday entitlement depends on the company as well as the number and treatment of public holidays. Here's an excerpt from the report, as an example:
"In the U.K., for example, employees are entitled to 28 days. With the U.K. also holding eight public holidays each year, this suggests that employees in the U.K. could be on holiday for 36 days, or 10 percent of each year. This would be one of the highest entitlements of all 62 countries. The reality is that companies are allowed to include the eight public holidays as part of the 28-day entitlement. Thus, U.K. employees actually have fewer holidays than their peers in the rest of Europe where, in general, the practice is for employees to take public holidays in addition to their statutory entitlement."
Some countries fare better than others
While Canada and the U.S. were the least generous countries in North and Latin America in terms of statutory holidays, Venezuela provides 24 days of holiday leave, followed by Brazil and Peru, with 22 days each. In Europe, Poland leads the pack with 38 days, followed by Austria with 37 days per year.
In some countries, employers are required by law to give leave for special circumstances, including marriage, the death of a spouse or close relative, or the birth of a baby. However, even when there is no legal requirement, companies usually offer additional leave for these situations.
Why time off makes a difference
With economic pain felt across the globe, many companies are looking for ways to motivate and retain employees when the usual mechanisms like pay raises are no longer options.
"From the employee's and company's perspective, health creates wealth," says Dr. Lorna Friedman, a partner in Mercer's Global Health Management practice. "Companies recognize that a healthy, happy workforce is a productive one, and this feeds directly into the bottom line. How companies interpret holiday regulations provision is a major factor.
"Companies that keep holiday provision as low as possible in order to reduce lost income from absent workers may find that their employees are less robust, in poorer health and, crucially, less productive," Friedman adds. "It's key to create a culture of health in the workplace, and employees will take the message home with them and look after their health outside work as well."
Justin Thompson is a writer and blogger for CareerBuilder.com and its job blog, The Work Buzz. He researches and writes about job search strategy, career management, hiring trends and workplace issues.
Last Updated: 27/02/2012 - 2:33 PM
Article Reprints
Permission must be obtained from CareerBuilder.com to reprint any of its articles. Please send a request to
reprints@careerbuilder.com
.