A TV producer's journey to Hollywood
Mark Scherzer and Keith Fenimore, authors of "Hire Me Hollywood"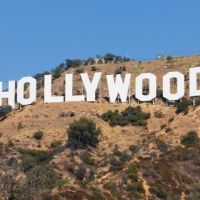 Do you have dreams of working in Hollywood? Think it's impossible to make it happen? A new book, "Hire Me Hollywood: Your Behind-the-Scenes Guide to the Most Exciting -- and Unexpected -- Jobs in Show Business," taps insiders for stories about their own journeys up the Hollywood Hills and tips for others aspiring to be in front of, or behind, the camera. While the book focuses on the entertainment business, the advice can apply to any job search. Bottom line: If you are passionate about something, pursue it in any way you can.
Below is an excerpt from the book, written by Mark Scherzer and Keith Fenimore, featuring an interview with Michael Gelman, executive producer of "Live with Regis and Kelly." It has been slightly modified for space reasons.
Ah, the importance of finding a contact versus a blind mass mailing.
It is absolutely key to find someone on the inside any way you can. I worked on a show called "Good Morning New York" hosted by Judy Licht and Doug Johnson. I worked my tail off for them and tried to make myself indispensable. By the end of the summer, I had become like a member of the staff. I found news stories and was pitching them and helping to produce some of the stories. They really came to depend on me. I had one more year at school, but the contacts I made during my internship became instrumental to launching my career.
So how did you make these contacts work for you?
Right before I was about to graduate, I arranged a meeting with Pat Caso, the executive producer of "Good Morning New York." When I came in for my meeting, I noticed Pat was pregnant. She said, "I'm sorry, I wanted to hire you when you graduated, but I'm leaving. I'll pass on your name to the new producer." Well, as you know, in this business it's all who you know and timing. Yes, regime changes and timing can make or break you. So I went from a guaranteed job out of school to, "I'll pass your name on."
Back to square one.
Yup, I began networking and meeting friends of friends. I landed work. And I can tell you that was very humbling. I was a glorified messenger boy. I thought I had worked up impressive credits and I would land a job with ease out of school and that's just not how it works. I was commuting to the city from Long Island for minimum wage to do menial work. Then I got a call from one of the producers that I used to work with. He was working on a new version of the old show I had interned on with Cyndy Garvey and Regis Philbin. I started off freelancing, but eventually got hired as a full-time [production assistant].
You must be so sick of the ABC commissary. Continuing on the career path, can you share more defining moments?
A year later, I got promoted to an associate producer. A big moment for me was being left in charge when the [executive producer] was out or on vacation. That was when I first started getting noticed by Regis. We started to forge a really good working relationship. Another pinnacle point came when I decided to leave the show. I was not really getting along with the EP. He was not a very beloved fellow.
Did you have another job in the wings?
No. Regis at the time had another show he was hosting and executive producing for Lifetime called "Regis Philbin's Lifestyles." He was looking for a producer and knew I was leaving, so he asked if I would be interested in becoming his producer.
Of course you turned him down.
Yeah, not interested. No, it was great. Careerwise, I made the jump from an AP to a full-fledged producer and got to keep working with Regis, whom I loved. We worked on that show for a season, and then it was canceled, but Regis turned me on to a friend of his, Rick Rosner, who was producing the new version of "Hollywood Squares." Rick hired me as their remotes producer. I was put on assignment to do the game show in front of the largest live game show audience ever at Radio City Music Hall. So, ABC in New York was airing the show and, you won't believe this, but the production ended up renting out office space for me on my old floor right next to all my buddies.
You just can't get away from this office, can you? It's almost creepy! Where did the "Hollywood Squares" job lead?
Back to Regis. The producer job opened up on Regis's local morning show. That was a huge opportunity for me.
How did you score the job?
I got clever. While they were deciding if they wanted to hire me, I was still freelancing on "Hollywood Squares," and I happened to be putting copy up on the ticker in Times Square for the show. So I wrote on the ticker, "Gelman gets job as morning show producer." I filmed it and sent them the tape of the ticker in Times Square and a note that read, "Wow, I didn't know I got the job." It worked. About a year and a half after I was hired, we took the show from a local show to nationally syndicated, and that is when it really took off.
You've hired a lot of people. Do you have interviewing advice?
I interview people all the time and I ask them what they want to do and the response I get a lot is, "I'll do anything. I just really want to work on the show." I have to say while the good intention is there, that is a really bad answer because if you do everything, then you are going to produce nothing. Everyone wants to do something, but you need to narrow it down and know what it is you are good at and, more importantly, how you can be of service to the person who is hiring you.
What characteristics and skills do you look for in a person when you are hiring?
I want a smart, organized and ambitious person. Organization is key. Common sense is key. Good judgment is key, and we can't teach those things; a person will either have them or not. I want someone who knows the show and can come up with ideas that fit what we are doing here and knows the TV business. Someone with a little practical experience who will be able to handle the pressure that comes with the job.
Have you gotten some sage advice that you would like to pass on?
Have a deep passion for your work, but keep it in perspective with your life. You need to have a balance and live your life fully. The experiences you have outside of work will allow you to be more creative and productive at work.
Last Updated: 01/11/2011 - 4:21 PM
Article Reprints
Permission must be obtained from CareerBuilder.com to reprint any of its articles. Please send a request to
reprints@careerbuilder.com
.