Free Salary Calculator >>
Making yourself known: How to cultivate your executive presence
Beth Braccio Hering, Special to CareerBuilder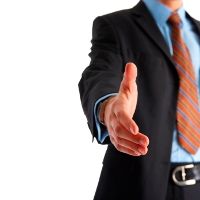 Every worker has heard that who you know can be just as important as what you know. "If you are out of sight, you are out of mind," states Brian Drum, founder and president of Drum Associates, a global executive search firm located in New York City. "Senior managers will not even think of you to head up a new project or take on a responsibility that could get you ahead if they forget you are there."
Today's workplace is oftentimes so busy that managers can't take the time to get to know every employee as well as they would like. Thus, it becomes up to the worker himself to figure out how to generate that all-important "face time" with key decision makers. Here, experts offer tips on how to make yourself known -- without seeming desperate or annoying.
Creating opportunities for interaction
"The more you can interact with senior management, the more time you have to show your value to the company," says Lisa Quast, president of Career Woman Inc. in Seattle, Wash., and author of "Your Career, Your Way!" "It may seem like a lot of work, but it's an investment in your future."
To put yourself in the company of leaders, Quast suggests trying some of the following:


Volunteer for cross-functional project teams


Participating on cross-functional project teams is a great way to get to know employees and managers in other departments of the company. It gives you an opportunity to demonstrate your skills and abilities to other managers and widen your professional network.


Volunteer to lead company-sponsored events


Many companies have activities throughout the year, such as a holiday party, a summer picnic and an annual charity fundraising event. Volunteering to coordinate these types of events provides access to senior management during the planning and preparation stages because you'll be soliciting their opinions and ideas, getting your budget approved, encouraging their participation and providing regular progress updates to keep them informed.


Ask a senior manager to be your mentor


Determine the skills and abilities you want to focus on improving and the additional experience you would like to get, then figure out which senior manager(s) would be a good fit to provide mentoring. Not all senior managers have the time or the skill to mentor others, but having one as a mentor can not only help you learn and grow in your career but also open up doors of opportunity to interact with others on the management team.


Enter company-sponsored competitions


Many companies have internal competitions to seek out innovative product or service ideas or improve processes. Research what competitions your company sponsors and enter your new product idea or your process improvement project -- the judges are usually members of the senior management team.
Another simple way to increase exposure to key figures: Put in more face time at the office itself. Senior managers often come in early and stay late, making your presence at these "off" times more noticeable.
While you might be excited to leave an impression on key figures, experts warn to use time wisely. "Don't try and monopolize a senior executive's time," says Gary Rich, president of Rich Leadership, an executive coaching firm in New York City. "Always look for the signal that it's over and move on." Rich also suggests sticking to issues and business rather than talking about yourself (or worse yet, other employees). Perhaps most importantly, don't spend time lathering up the boss. "Trust me, she'll recognize it for what it is," Rich notes.
"Managers always want people to work for them if they are enthusiastic and show that they want to be there," Drum says. He recommends being a responsive employee -- one who acts promptly when a senior manager inquires about something -- and being someone who offers thoughtful ideas and suggestions for improvement (just not too many at once).
Finally, be the kind of worker superiors can respect and you may find access easier and more generous. "Always deliver and execute on your work commitments," Quast says. "Build a reputation that you are someone who is honest, trustworthy and accountable. Credibility is priceless."
Beth Braccio Hering researches and writes about job search strategy, career management, hiring trends and workplace issues for CareerBuilder.com. Follow @CareerBuilder on Twitter.
Last Updated: 08/03/2011 - 5:09 PM
Article Reprints
Permission must be obtained from CareerBuilder.com to reprint any of its articles. Please send a request to
reprints@careerbuilder.com
.