What Can You Do With a Law Degree?
Anthony Balderrama, CareerBuilder.com writer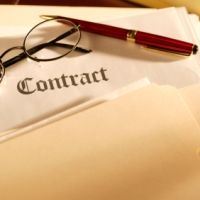 Students in certain fields, such as English or philosophy, are used to family and friends asking, "What do you plan to do with your degree? Teach?" Although many do go on to teach, others take their skills to occupations that are nowhere near a classroom.
On the flip side, few people question the future of law students. If they're studying law, they must want to be lawyers. (And many people don't know much about law beyond "Law and Order" episodes and John Grisham books, so they also assume all law students will be trial lawyers in exciting, high-profile cases.)
Au contraire. Although law programs can offer a clear path to a career as an attorney, not everyone chooses that path. Even among the students who do become lawyers, some often find that the experience isn't what they hoped it would be and decide to transition into something else.
For anyone who wants to study law or who already has, but is unsure as to what the career options are, here are six professions you might consider:
Corporate investigator
What they do: When companies suspect their employees are violating workplace rules or committing serious breaches, they hire investigators to conduct internal investigations, which can reveal illegal behavior such as theft or fraud. They also conduct external investigations if a company suspects its clients or vendors are violating an agreement or engaging in illegal behavior.
Annual salary: $47,098*
Employee benefits managers
What they do: Employee benefits managers design and implement the benefits plan for an organization. They formulate a plan that incorporates the needs of employees, ranging from health and mental well-being benefits to stock options and flexible spending accounts. In addition to creating and implementing the plan, managers also stay abreast of all legal guidelines to ensure that the company is not violating any state or federal laws.
Annual salary: $91,023
Law librarians
What they do: In law firms, libraries, corporations and universities, law librarians are experts on researching any law-related issue. Attorneys, professors, paralegals and patrons of all industries often need to access reference materials, case studies and other legal documents. Law librarians know where to find relevant information and ensure that the library remains stocked with the appropriate materials necessary for its patrons.
Annual salary: $60,732
Mediators
What they do: When two parties (individuals or organizations) need to settle a disagreement that they would prefer not escalate to a trial or other public forum, they turn to mediation. A mediator sits in on the discussions and sometimes offers advice, but he or she does not dispense a ruling or orders of any kind.
Annual salary: $50,660
Personal financial advisers
What they do: Personal financial advisers work with clients who need guidance on how to handle their finances, from investments to savings to insurance.
Annual salary: $77,723
Risk managers
What they do: Often employed in financial organizations, risk managers identify potential financial threats to the company and implement methods to reduce or eliminate them.
Annual salary: $96,395
*Salary figures based on data from CBSalary.com and the Bureau of Labor Statistics.
Anthony Balderrama is a writer and blogger for CareerBuilder.com and its job blog, The Work Buzz. He researches and writes about job search strategy, career management, hiring trends and workplace issues. Follow him on Twitter at twitter.com/abalderrama.
Last Updated: 01/03/2010 - 12:53 PM
Article Reprints
Permission must be obtained from CareerBuilder.com to reprint any of its articles. Please send a request to
reprints@careerbuilder.com
.