What Everyone Should Know About Rethinking Retirement
Rachel Zupek, CareerBuilder.com writer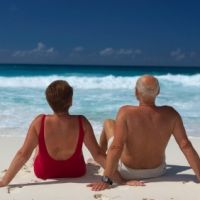 Today's economy has thrown the job market for a loop, changing every aspect of the career cycle. Not only is it more difficult to search for, find and keep a job -- it's also harder to land interviews, get your résumé noticed and feel like you actually have a shot at a position.
Perhaps the biggest change that's come from the unstable economy is in older workers' retirement plans. Baby boomers approaching retirement age find themselves having to rethink their plans, deciding if they can retire -- or if they want to.
"Boomers are challenging myths about work and retirement that limit them and are doing so with good reason. The new reality is that boomers are healthier than past generations and will be able to remain actively engaged longer," say James W. Walker and Linda H. Lewis, co-authors of "Work Wanted: Protect Your Retirement Plans in Uncertain Times" (Wharton School Publishing). "Working is much more than earning money for many boomer professionals. Many individuals look for social stimulation, satisfaction and the opportunity to make a contribution as they weigh various options."
And options they have.
These days, retirement is just one option out of many that seasoned workers have when it comes to thinking about leaving a career.
"The magic age of 65 for retirement was set by Social Security in 1935 [when] only 53.9 percent of men and 60.6 percent of women were expected to reach age 65," says Joseph Sturniolo, founder of  Roar, a Denver-based organization that counsels people seeking meaningful alternatives to conventional retirement. "So why turn us out to pasture at 65? For many people, postponing retirement represents a chance to discover or rediscover and deploy their unique gifts."
Here, five retirement experts weigh in on the pros and cons of some options.
Option A: Retire as planned
The decision to retire, while always important, has never been more so, says Andrew Betts, an independent financial planner who specializes in retirement planning. Retirement means freedom for many, whether it's spending time with grandchildren, working on the garden or the golf game, or just getting out of the rat race, Betts says. "For those who are willing to be flexible with their standard of living, retirement might be the best quality-of-life choice," he says.
Pros: You won the rat race, officially.
Cons: There's the possibility of miscalculating your amount of permanent income, facing the risk of inflation or not being prepared to cover health-care expenses, Betts says. "Make sure that you have enough permanent income to cover your basic expenses, that your portfolio is managed so that it grows faster than the rate of inflation, and that you maintain insurance to cover major expenses that could wipe out your savings," he says. "You may end up sacrificing a little standard of living for  quality of life, but if you do it right, you won't regret that decision."
Option B: Stay in your current role, but scale back your workload
Jan Cullinane, co-author of "The New Retirement: The Ultimate Guide to the Rest of Your Life," says that for many boomers, their career is their passion. If that's the case, try a "phased retirement" by scaling back hours, working a more flexible schedule or perhaps taking a long vacation or sabbatical.
Pros: You can still earn a paycheck, have increased flexibility and prepare yourself for full-time retirement. Plus, you'll still enjoy some of the nonfinancial perks of working, such as having structure, intellectual stimulation, social support and a feeling of contributing, Cullinane says. Phased retirement is also a plus for employers, who can save money and retain expertise, she says.
Cons: There are some tax/Social Security/pension issues associated with phased retirement. "There is a $1 reduction in Social Security benefits for every $2 earned above the earnings limit, [which] depends on the monthly Social Security benefit amount," Betts says. "If you earn over the limit and benefits are withheld, your Social Security benefit will be increased after you stop working. There is a special rule for your first year of retirement that the annual limit doesn't apply, to accommodate those who have earned more than the limit before the date of their retirement."
Betts adds that delaying the start of Social Security payments until age 70 dramatically increases your payout. "The break-even by delaying from 62 or from full-retirement age to 70 is about eight years," he says. "Life expectancy at 65 is about 20 years. So with break-even at about 78 and life expectancy about 85, delaying the start of Social Security until 70 is beneficial in most cases."
Option C: Switch industries
You've decided you want to keep working, but you're ready for a change of scenery. What better solution than to use transferable skills from your current position to transition into a different industry?
Pros: "If you enjoy a challenge or variety, learning the ins and outs of a new industry can be fun and challenging," says Randi Bussin, a career reinvention coach. Changing industries but maintaining a similar job description can help leverage your skills and competencies in a new field without having to learn a lot of new information. Plus, Bussin says, you can target industries with high growth potential, like health care or green technology.
Cons: Switching industries will be good only if you truly like your job function. "You are only changing your industry, so if you don't like what you do, that issue will not be resolved," Bussin says. Additionally, changing industries can involve a steep (and sometimes stressful) learning curve. And while you may have a great reputation in your current industry, you may not be a known entity in the new industry for a while, Bussin says. If your ego can't handle that, switching industries isn't the option for you.
Option D: Start your own business
Say you want to keep working, but maintain some of the freedom you would achieve in retirement. If this is the case, becoming an entrepreneur might be your best option. Nearly one-third of all 55-year-olds are already self-employed or own their own businesses, according to a study by Met Life. Additionally, half of the 7.4 million Americans who are self-employed are baby boomers, according to AARP. Why not join them?
Pros: If you work for an employer who is reluctant to provide flexible work arrangements, becoming a free agent is a great option, Walker and Lewis say. Plus, landing a position at a new company can take up to a year or more, whereas starting your own business or buying one from someone else will take less time.
Cons: Everyone thinks their idea for a business will be a success, but many find out the hard way that may not be the case. Individuals should think of free agency as not only an opportunity, but also as an alternative with both positive and negative consequences, Walker and Lewis say.
Option E: Do something more fulfilling
Sturniolo says that many of his baby boomer clients seem to look forward to retirement with dread -- a sense that life will be less interesting and less meaningful. But that doesn't have to be the case. "While they may be ready to retire from what they have been doing, they clearly are not ready to retire from life and from using their God-given gifts," Sturniolo says.
Pros: Those who are aware of their gifts can fully put them to use in their work or volunteer pursuits, Sturniolo says. They want to continue to be engaged in using and sharing their gifts, and are often more engaged than other workers.
Cons: "Shifting your life's focus requires you give up some comforts as well as entanglements and needless commitments," Sturniolo says. "It might also mean living on less money, giving up some luxuries. It could also mean less time with friends and family. Is the trade-off worth it?"
So, to everyone out there looking to rethink their retirement plans, Walker and Lewis leave you with this:
"Whether working part time, choosing a preferred schedule or workplace, phasing in retirement or staying on with the same company as an independent contractor, each alternative represents a viable option. Recognize that [you] have choices and do not need to jump off a cliff into retirement."
Rachel Zupek is a writer and blogger for CareerBuilder.com and its job blog, The Work Buzz. She researches and writes about job search strategy, career management, hiring trends and workplace issues. Follow her on Twitter: https://twitter.com/CBwriterRZ.
Last Updated: 28/07/2009 - 2:26 PM
Article Reprints
Permission must be obtained from CareerBuilder.com to reprint any of its articles. Please send a request to
reprints@careerbuilder.com
.