"Women in America" White House Report: How Far Have We Come?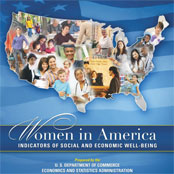 By Amy Chulik
in Leadership
Recruitment Products
Choose Your Recruitment Need
The White House recently released a report called Women in America: Indicators of Social and Economic Well-Being. It was prepared for the White House Council on Women and Girls — a council created in 2009 by President Obama to "enhance, support, and coordinate the efforts of existing programs for women and girls."
A report nearly 50 years in the making
This is the first Federal report that focuses on the progress of women in the U.S. since John F. Kennedy's Presidential Commission on the Status of Women issued 1963?s Peterson Report, which primarily focused on workplace discrimination and issues of workplace inequality — and which helped lead to the Equal Pay Act.
Why women's issues are important (and not just for women)
President Obama himself has stated that the social and economic issues facing women are not just women's issues; many of these issues can end up affecting entire families. The report gives a picture of women in America today by focusing on five areas: demographic and family changes, education, employment, health, and crime. Women have achieved so much — and this report reflects those achievements. In some areas, however, there is still much progress to be made.
Women and Education
When it comes to educational achievement in particular over the last few decades, women have made huge strides. This holds true across racial and ethnic groups, and, in some cases, the educational achievements of women have significantly outpaced those of men over the last 40 years.
Highlights:
Perhaps not surprisingly, high school education rates of women have substantially increased. Between 1970 and 2009, the percentage of women with at least a high school education rose from 59 percent (about the same as men) to about 87 percent (slightly more than men).
Over the years, we've seen a huge surge in the number of women who have paved out careers for themselves and embarked upon that institute of higher learning known as college. The percentage of women ages 25-34 with at least a college degree has more than tripled since 1968, and women earned about 57 percent of all college degrees given in 2007-2008.
In 2008, women accounted for 59 percent of graduate school enrollment.
When it comes to doctoral degrees, the tables have completely turned in the past decade alone. In 1998, more doctoral degrees were conferred to men than to women. A decade later, it's the opposite.
The science and tech gap
While women do earn the majority of degrees overall, they earn fewer degrees than men in science and technology. In the college level of engineering and computer sciences, women possess fewer than 20 percent of degrees earned. The good news is that the lack of women in these fields has not gone unnoticed; women in the tech field, for instance, are banding together and starting conferences, investing money and resources, and engaging in professional networking. These efforts aren't without criticism, however — some believe that instead making efforts to differentiate themselves, women in these types of fields should be integrating themselves more forcefully into male-dominated events and circles.
Women and the Workplace
Over the past several decades, women's role in the workplace has changed dramatically. But where are women currently excelling — and where are women falling short?
Highlights:
The earnings gap between women and men has narrowed over the years — but it's still there. Among full-time wage and salary workers, women's weekly earnings as a percent of men's have increased from 62 percent in 1979 to 80 percent in 2009.
Although we've seen older persons either staying in or going back into the workforce since the 2008 recession, according to the report, the labor force participation rate of persons ages 55 and older began to rise in 1996 for both women and men, but that pace has slowed in recent years.
Speaking of the recession — during the past four recessions, the unemployment rate among women rose less than the rate for men. This can be attributed to men's concentration in more cyclically sensitive occupations, like manufacturing production and construction, compared to women's concentration in more rapidly growing fields like health care.
Women are considerably more likely to work year round than they were in past decades. In 2009, 75 percent of women worked year round, up from 51 percent in 1968.
In May 2004, about 30 percent of wage and salary workers reported having flexible schedules that allowed them to vary their work hours to some degree. (That's likely increased since then, with the larger focus on flexible scheduling that's developed). What exactly the flexible schedules entailed, the report didn't say, and it would be interesting to find out percentages of employees working from home or exploring other alternative scheduling with their employers now that 7 years have passed.
What do the findings tell us?
As we've seen above, women have accomplished a great deal in the realms of education and employment since the 1960s — or even the 1990s. Yet, on average, women still earn less pay than that of men, and few women are venturing into the fields of science and technology. But the fact that this report leaves out legal issues of inequality which were the main focus of the Peterson Report of 1963 is a huge difference in itself, in only 47 years' time. In addition, this report lays bare the findings that women are not equal in the aforementioned areas — but are there explanations involved that have more to do with lifestyle and culture than with unfair business practices?
And as author and history teacher Stephanie Coontz points out in an article on CNN International, the 1963 report cataloged the once-common practice of establishing quotas on how many women were admitted to educational institutions or sought-after jobs — an issue which has, at least in theory, gone away. Yes, discrimination against women still exists, and yes, some institutions' or individuals' mentalities may still be back in 1963. But this White House report chronicles just how big of a leap we've taken forward in such a short time.