Social Media Recruitment Etiquette: Don't Get Caught with Your Pants Down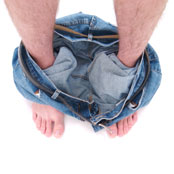 By Amy Chulik
in Emerging Media
Recruitment Products
Choose Your Recruitment Need
There's etiquette for many things in life, from bathroom use (put the toilet seat down after you use it), to public transportation (don't clip your toenails or demonstrate your newest yoga moves on a crowded train). However, we all have different opinions on what the proper etiquette is for any given situation (see toilet seat example).
Despite our differing opinions, it's helpful to have a base of etiquette from which to start. As an employer, you need to know how to play nicely in the online space. Learning the difference between good online etiquette — and lack thereof — will help you avoid the backlash from candidates and even your own employees. With this in mind, below are some tips and guidelines to start your company on the right track in your social media interactions — or get you back on track.
11 Social Media Etiquette Guidelines to Keep in Mind:
Be aware.

Be cognizant of everything going on around you in the online space. Set up Google alerts about your company, stay on top of sites like Facebook and Twitter, and pay attention to blog comments. What is your company's reputation in the online space? Do you know? You should know what people are saying about you as soon as it happens.

Own up to your mistakes — and address them.

Businesses make mistakes, but with news spreading on sites like Twitter mere seconds after an event occurs, more important than the mistakes themselves is often how a business handles the resolution — in other words, how they reach out and communicate the issue to the public.

After two Domino's pizza employees were charged with delivering prohibited food after posting their actions on YouTube, the President of Domino's USA, Patrick Doyle, responded quickly and spoke candidly with his own video. A temporary Twitter account, @dpzinfo, was created to address concerns, interact, thank customers, and help to rebuild the company's reputation post-scandal. Currently, the @dominos Twitter account is very active and engaged.

Don't write anything you wouldn't want broadcast to the universe.

Because by posting in the Internet, well, that's essentially what you're doing. Refrain from posting anything that you wouldn't want your candidates, employees, mother, father, kids, or boss to read; remember, as an employee representing your company — or as someone communicating directly as your company spokesperson — everything you do and say reflects on the business. Employers may be more notorious for complaining about their employers, but there are plenty of things higher-ups can do to cause controversy and trouble in the online space. Use common sense and encourage others to do the same.

Transparency is key.

Speaking of controversy in the online space, it's vital to be upfront about your intentions and transparent about who you are when interacting via social media sites (or anywhere, for that matter). Take the example of Honda manager of product planning, Eddie Okubo, who wrote about the Honda Crosstour on Honda's Facebook page as if he wasn't involved with Honda himself. He not only suffered backlash from others, but he represented Honda unfairly, creating a negative situation for the company and forcing them to take action.

Play in your own sandbox.

The "write what you know" adage definitely applies here. Be current, relevant, and relay company news and ideas in a tone that's comfortable for your business. Find your own voice, and speak to the things your business knows and is passionate about. The best way to be interesting and garner followers is to be interesting. Offer original content, respond to others' comments and questions, and share ideas. And hey — have fun while you're at it! Social media is meant to encourage relationships — while you should use best judgment, it's not a prison sentence.

Respect others.

It should go without saying, but don't ever use racial or ethnic slurs, slam others with personal insults and obscenities or engage in conduct that would not be acceptable in the workplace or anywhere else. Remember to be considerate of other people's sensitivities to certain topics like politics or religion, too.

Don't talk about the competition.

Rather than be negative about your competitors, focus on your company's positives and work on building relationships with candidates, employees, and customers by your own merits. There's no need to bash another company; it only makes your company appear petty and defensive — and it may turn people off to your business.

Don't pick fights.

If you see your company represented in an unfavorable light, disagree with someone's opinion, or think a member of the media, an analyst or a blogger has misrepresented your company, do not get defensive. Check with your leadership to see what their response is, if any. If they choose not to respond, but give you the OK to do so, be factual and respectful in your response.

Keep private information private.

Keep internal email, documents and information confidential. Include a disclaimer when necessary. Remember that public blogs are just that: public. Don't use a public forum as an intranet.

Teach your own employees about social media. *

Everyone in a company has access to information now; not just leadership figures. That shouldn't stop at social media. After all, your employees are likely tweeting and Facebooking away anyway, so it makes sense to get everyone on the same page, encourage learning and knowledge about best practices, and also make employees aware of any social media policies you have as a company.

Think before you hit "post."

Bottom line: Before commenting in a public forum, remember that you are representing your company. Join online groups on social or professional networking sites with care, and use your head. The rest will fall into place.
* Don't know how to create a social media policy, or need ideas on what's right for your particular company culture? See our article about how to launch in the social space, or compare the social media guidelines of over 100 other companies.