What is Your Compensation Strategy?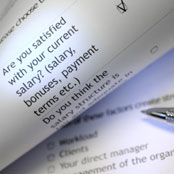 By Amy Chulik
in Talent Data
Recruitment Products
Choose Your Recruitment Need
In many workplaces, employers are often just throwing darts to ultimately decide upon the monetary figure that becomes an employee's salary.
As it turns out, this is a huge mistake, for compensation is the single largest expense for companies of all sizes. According to the Bureau of Labor Statistics, U.S. corporations' total employee compensation expense in 2007 was approximately $7.51 trillion. Staggering, isn't it? Yet, many companies do not have a real strategy around their compensation. Have you thought about the factors influencing your company's compensation decisions?
Many think of "strategy" based on factors like "experience," "past performance," or "recent salary." While these are part of what makes up a strategy, many employers don't think beyond these factors. What, for instance, are you measuring a candidate's experience against to determine the right salary? What are your competitors doing? What is the most frequent salary for the position you are filling in your geographic area and industry? Do you have any idea whether your number is on the low or high end of the scale?
Obviously, your company doesn't just pull a number out of thin air (right?), but it is important to understand which factors combine to determine a fair salary — and how those factors are determined in the first place. Assigning weight to factors with inaccurate or outdated research can be a dangerous decision. The compensation industry has been around for a long time, and, traditionally, it has been defined using data that is collected through employers' surveys. These surveys are usually only conducted on an annual basis, typically only completed by a limited amount of companies (fewer than 300), and limited to larger-size companies.
Although these surveys have filled many needs in the past, there are limitations to the current process that have resulted in an unsatisfactory experience and led employers to ask:
What is the current market rate?
What should I pay in a smaller market like Louisville?
What should I pay in my small business for ____ position?
My policy is to pay in the top quartile — but what is that pay?
Specifically, what should I pay for certain levels of experience, industries, or education?
If you want to position yourself as a best-in-class organization, it is wise to start thinking now about which compensation factors are important to your company, then use the most current and accurate compensation statistics to develop a strategy around your company's compensation decisions.
Compensation is not only a big expense to businesses of all sizes, but is also crucial for attracting and retaining your best employees. If your company doesn't know the right compensation for a particular position, it is difficult to compete for a stellar candidate. And if candidates or current employees find out that your company doesn't realize their true worth, they're not going to be sticking around for long.
It's not too late to start developing the right strategy to attract the best candidates and retain your employees — and it starts with having the right knowledge at your fingertips. With access to the most accurate, fresh, and complete compensation information, your business can:
Optimize its salary budget
Attract and retain the best people at the right price
Keep up with the latest compensation trends
Manage compensation during times of change
Reduce turnover
As the employment market is constantly changing, your company, too, must continue to evaluate and adjust your compensation strategy to ensure you're remaining competitive and balanced.
With CareerBuilder's Talent Compensation Portal, you can forget incomplete, outdated data and frustration with not finding the right salary for that niche position or emerging "hot" title. We'll help you keep up with access to the most fresh, accurate, and complete data available on the market — so you can keep attracting and retaining the best talent.