Fill Your Pipeline with the Best and Brightest with Talent Network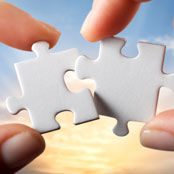 By Amy Chulik
in Talent Pipelining
Recruitment Products
Choose Your Recruitment Need
Just a couple of years ago, the world watched as Wall Street began to rapidly unravel, and we continued to watch as the weeks and months to follow showed further signs of trouble and revealed cracks in our economy that many of us hadn't the slightest idea existed.
When what we were going through was finally officially labeled as a recession, many employers had already thinned out staff levels, cut back budgets, and slashed benefits. Consequently, businesses were forced to "do more with less" (that phrase you've heard 1,000,001 times by now.)
No money, no problems?
Faced with fewer resources, many companies decided to roll up their sleeves, get creative, and find new and inexpensive ways to communicate with their clients and job candidates. Some of those inexpensive ways of communicating included Web-based tools like Twitter, Facebook, and YouTube, and they were really starting to take off. Not surprisingly, many human resources professionals were suddenly tasked with taking them on, in addition to all their other responsibilities.
Without proper methods of tracking candidates found through sites like Facebook and Twitter, however, HR managers and recruiters were spinning their wheels and wasting a lot of valuable time. In fact, according to a recent CareerBuilder study, 60 percent of recruiter time was being wasted on non-value-added activities, the majority of recruiters weren't measuring ROI, and candidate tracking was often only 25 percent accurate due to ATS limitations. Executives were expecting HR to perform miracles through social media — and it wasn't happening.
While HR was focused on time and cost to hire candidates, business executives were stressing the need to convert HR data to business intelligence.
Now what?
CareerBuilder realized companies needed a solution that accomplished both parties' objectives — and soon after, Talent Network was born.
Talent Network, a custom career site that helps employers build their own pipeline of talent, enables employers to connect the dots of all the things they are doing to attract job seekers, engage interested candidates, and measure the success of their efforts. Let's break it down:
Awareness
Talent Network builds awareness for your jobs through five key areas:
Social: Add a link to your Talent Network on social sites all over the Web, including Facebook (via CareerBuilder's Work@ employee referral system) and Twitter.
SEO: Turn your internal job terms that may be abbreviated, vague or full of company lingo into title descriptions that job seekers instantly understand, and in turn, show up in more search engine results for job seekers looking for your open position.
Mobile: Your Talent Network site is mobile-enabled, giving you instant reach to people searching for jobs on their mobile devices. Tap into a market with explosive growth.
Career Site: Get a designed, hosted and supported career site, drive your target candidates there, and track your progress.
Job Distribution: CareerBuilder's partnerships with all types of career-related websites help you gain strong referral links to your jobs.
Engagement
Interact with candidates who have expressed interest in your business or open positions and give them a more satisfying experience.
With the click of a button that exists on sites all over the Web, potential employees can arrive at and join your talent network, stay keyed into your available job opportunities, and get personalized alerts with jobs at your company that most match their interests and experience.
Capture job seekers' information before they leave your site, welcome them to your community, and start connecting with them on a deeper level.
Send members of your network tailored job recommendations and customized messages. You can even send automated communications when you need to get a broad message out to many people at once.
Measurement
Quality measurement matters. Drive informed business decisions with accurate and in-depth information about your Talent Network's search traffic, job interactions, and candidate conversions; in other words, gain the most insight available about members of your network.
A Better Way
How does Talent Network solve some of the biggest recruitment and business challenges companies are facing? Let's take a look:
Old way: Potential candidates are gone before you can get them to take any action on your website.
Talent Network: Encourage visitors to leave a footprint before leaving your website.
Old way: You're missing out on job search traffic because your jobs are hidden behind your ATS.
Talent Network: Expose and search engine-optimize your jobs, driving relevant candidates to your job openings.
Old way: Your recruiters keep contacts in their own databases, which creates a lot of one-off lists.
Talent Network: Keep all recruiters' candidate contacts in one location.
Old way: You know who your target candidates are, but you're struggling to reach them.
Talent Network: Take advantage of the custom SEO landing pages developed exclusively for your organization, and get in front of those elusive candidates.
Old way: You're not really sure where your website traffic is coming from.
Talent Network: Get detailed, helpful insight into where your visitors are coming from, as well as what they're doing once they get there.
Have more questions about Talent Network? Visit the Talent Network page.