Make Employee Referrals Work for You
Put your open positions in front of a select, captive audience with Work@, CareerBuilder's new employee referral application on Facebook. With Work@, your employees have the ability to share your company's job openings with personal and professional contacts within their Facebook social network.
As 62 percent of U.S. Internet users have a Facebook account and an average of 130 friends, Work@ gives your company a huge opportunity to expose your jobs to a wide online audience while enjoying the benefit of a referred candidate network. For more information, watch a brief overview video.
How does it work?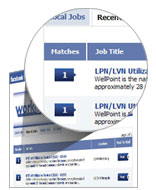 After an employee from your company adds the Work@ application to his or her Facebook account, the Work@ job recommendation engine quickly identifies potential matches in that employee's network for your company's available jobs. Your employees easily connect those potential matches with available jobs by posting a message on their own wall or their friends' walls.
Why increase employee referrals with Work@?
Employees are the best people to answer job seekers' questions about job responsibilities and your company culture.
Deliver a personal, consistent and branded experience to candidates.
Track and measure your program's success with Work@'s analytics tools.
Increase the quality of applicants while decreasing your bottom line: Research shows that employee referrals are the preferred source of hire, both for cost per hire and quality of hire.
WHAT PEOPLE ARE SAYING

We recently launched Work@ and are already seeing success — immediately, we saw a lift in employee referrals and all of the feedback we have received has been very positive. We are looking forward to continuing to gain momentum and turn the referrals into hires!

- Angela Mackay, Talent Acquisition Manager, Work at Home - NEW Corp.