Free Salary Calculator >>
4 good jobs for transitioning back into the workforce
Susan Ricker, CareerBuilder Writer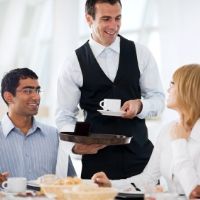 People have a variety of reasons for being out of work, including sick leave, staying at home to raise a child, a physical disability and getting laid off. If you've been unemployed for a long time, how can you transition back into the workforce? Some jobs are better-suited for rejoining the workforce than others because of their flexible schedules and varying education and experience requirements.
These jobs can help contribute to a household's income as well as lead to bigger careers, and they can also be a good interim job while you figure out what's next.
1. Library technician and assistant*
What they do: Library technicians and assistants help librarians acquire, prepare and organize materials. They also do other tasks that are needed to run a library.
Schedule: About 63 percent of clerical library assistants worked part time in 2010. Library technicians and assistants in school libraries work during regular school hours. Those in public or college libraries may also work weekends, evenings and some holidays. In corporate libraries, library technicians and assistants work normal business hours but may be asked to work overtime. The schedule of library technicians and assistants who work in bookmobiles depends on the locations they serve.
How to become one: Library technicians and assistants have varying levels of education. Some have only high-school diplomas, while others have specialized postsecondary degrees. Library technicians are more likely to have formal education beyond high school.
Median hourly pay: $12.66
2. Secretary and administrative assistant
What they do: Secretaries and administrative assistants perform a variety of clerical and organizational tasks that are necessary to run an organization efficiently. They use computer software to create spreadsheets, compose messages, manage databases and produce presentations, reports and documents. They also may negotiate with vendors, buy supplies, manage stockrooms or corporate libraries and get data from various sources. Specific job duties vary by experience, job title and specialty.
Schedule: Most secretaries work in comfortable office settings and work regular business hours. Virtual assistants typically work from a home office, which allows them to support multiple clients in different fields at the same time.
How to become one: High-school graduates who have basic office and computer skills usually qualify for entry-level secretarial and administrative assistant positions. High-school graduates can get basic office, computer and English grammar skills in various ways: through high-school vocational education programs, vocational-technical schools or community colleges. Many temporary-placement agencies also provide formal training in computer and office skills. Employers of more specialized workers, including medical and legal secretaries, often require applicants to have some knowledge of industry-specific terminology and practices. Community colleges and vocational-technical schools usually offer instruction in these areas.
Median annual pay: $34,660
3. Teacher assistant
What they do: Teacher assistants work under a teacher's supervision to give students additional attention and instruction.
Schedule: About 37 percent of teacher assistants work part time. Some ride the bus with students before and after school. Many do not work during the summer, but some work in year-round schools or help teachers in summer school.
How to become one: Some districts require applicants to have a high-school diploma; others require at least two years of college or an associate degree. Teacher assistants in schools that have Title 1 programs -- a federal program for schools with a large proportion of students from low-income households -- must have at least a two-year degree or two years of college, or pass a state or local assessment. Associate-degree programs for teacher assistants prepare the participants to develop educational materials, observe students and understand the role of teachers in the classroom. Most states require passing a skills-based test for instructional aides who work with special-needs students.
Median annual pay: $23,220
4. Waiter and waitress
What they do: Waiters and waitresses take orders and serve food and beverages to customers in dining establishments.
Schedule: Most waiters and waitresses work part time, and many work early mornings, late evenings, weekends and holidays. This is especially true for those who work in full-service restaurants, which employ 76 percent of all waiters and waitresses.
How to become one: Most jobs are entry level, and workers learn through short-term on-the-job training. No formal education or previous work experience is required to enter the occupation. Most states require workers who serve alcoholic beverages to be at least 18, but some states require servers to be older. Waiters and waitresses who serve alcohol need to be familiar with state and local laws concerning the sale of alcoholic beverages.
Median hourly pay: $8.81 (including tips)
*All median pay figures, education levels and job descriptions are from the Bureau of Labor Statistics' Occupational Outlook Handbook.
Last Updated: 30/01/2013 - 11:24 AM
Related Articles
Article Reprints
Permission must be obtained from CareerBuilder.com to reprint any of its articles. Please send a request to
reprints@careerbuilder.com
.