Bilingualism and your job search
How to prove it's an asset
Justin Thompson, CareerBuilder Writer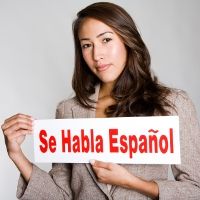 Many people were exposed to a foreign language in high school or college. However, a year of conjugating verbs or learning conversational phrases such as, "Excuse me, where is the post office?" doesn't qualify someone as bilingual. Yet some job seekers exaggerate their linguistic skills on their résumés.
Multilingualism is becoming more common in the workplace. According to a 2011 CareerBuilder survey, 29 percent of companies said that if they had to decide between two equally qualified candidates, they would choose the candidate who is bilingual. According to Bloomberg Rankings, Mandarin Chinese is considered the most useful language to know for business, followed by French and Arabic. Sign language is also prevalent in the workplace. As businesses expand globally, having multilingual workers on staff is becoming more important.
Here are some tips for proving your multilingual prowess during the job search:
Don't put your language skills under "other"
As you would with any other skill on your résumé, you should quantify your ability to speak fluently. Don't treat it like a hobby and bury it at the bottom of your résumé. "I would treat it like any other skill by listing it on your résumé and including examples of how it was used to your advantage," says John Millikin, clinical professor of management at Arizona State University's W.P. Carey School of Business. Quantify how your language skills helped business, whether it was by growing sales or reaching new audiences.
Understand what they need and what you can do
When researching the position, find out why the company might need a bilingual employee. Is the company expanding into a new region or diverse markets? Is it looking to better support an existing market?
Some positions will require someone who is a native speaker due to the level of written and oral interaction. Other positions may just require someone with the ability to correspond with internal teams from the around the world. By understanding how your language skills will be used, you'll be better able to fine tune your résumé and cover letter.
Don't oversell your abilities
"Do not exaggerate your skills," says Jonathan Riedel, CEO of Forword Translations. "If your conversational skills are intermediate and you claim they are advanced, you will embarrass yourself and your company when they ask you to interpret for a conference or to call a potential client on the phone. There is no need to cram for an interview if the job requires knowledge of Spanish and you feel unprepared. Only say you can do what you can do."
Riedel adds that even if a candidate lists himself as a "beginner" in several languages on his résumé, it shows an employer that he's open-minded, eager to learn and try new things, culturally sensitive and well-rounded.
How to quantify your bilingualism
If you were proving your sales skills on your résumé, you would include revenue earned, market share or client needs that were met. Treat bilingualism the same way. Provide evidence of your abilities and potential, either during the interview, on the résumé or in the cover letter. Here are some ways to do so:


Show translated documents or content written in another language: Examples could include marketing materials, press releases, emails or social media interactions.


Identify specific scenarios: Be ready to share a scenario that best represents how your understanding of a second language helped you in your career or improved a process or experience for your previous employer.


Attach a dollar amount: Money talks. Any quantitative figures you can use to back your multilingualism well help you get ahead of other candidates.


Show how it can grow business: Identify markets that the prospective company isn't taking advantage of and explain how your bilingualism can help them expand into those markets. If you can walk into an interview and address a hole in the marketplace that can be solved by your skills, you become an asset to the company that it can't afford to pass up.


Justin Thompson is a writer and blogger for CareerBuilder.com and its job blog,
The Work Buzz
. He researches and writes about job search strategy, career management, hiring trends and workplace issues.
Last Updated: 31/05/2012 - 3:53 PM
Article Reprints
Permission must be obtained from CareerBuilder.com to reprint any of its articles. Please send a request to
reprints@careerbuilder.com
.