Free Salary Calculator >>
Battle of the sexes: How do men's and women's workplace needs differ?
Mary Lorenz, CareerBuilder Writer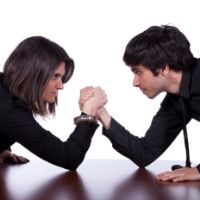 Workforce gender differences have always been a hot conversation topic: speculation over why women still earn less than men, the debate over which gender makes better leaders, inherent differences over workplace personas and even how their networking habits differ.
When it comes to what they're looking for in a potential employer, are men and women really all that different?
Not really, according to a recent CareerBuilder study on what job seekers value most about their current and potential employers. According to the survey, men and women showed little variation in what they prioritize for factors like compensation, benefits, training and development and culture.
The only areas that showed any difference were advancement opportunities, work/life balance and appreciation by management:


Men are 25 percent more likely than women to value advancement in potential employers.


Women are 20 percent more likely than men to focus on work/life balance and 15 percent more likely to focus on appreciation by their manager.


"The findings indicate that employers who promote career advancement as part of their brand message may have a slightly more masculine appeal, while brands built around the relationships and connections of the organization may have a slightly more feminine appeal, which can be differentiators if you're working to better diversify your organization," says Keith Hadley, director of employment branding at CareerBuilder.
Yet, while these findings show that differences between what men and women want exist in some areas, they may not be as significant as people might expect. Employers might be better off targeting their message by profession. Consider the following findings:


Nurses (a female-dominated field) are more likely than all women to prioritize work/life balance.


Engineers (a male-dominated field) are less likely than all men or women to prioritize advancement.


The findings further underscore the need for employers to define who their desired employee is, understand what that employee wants and create specific messages that speak to those wants.
Mary Lorenz writes for The Hiring Site, CareerBuilder's community for hiring professionals and other curious-minded individuals to discuss the attraction, engagement and retention of their #1 asset -- their people.
Last Updated: 30/04/2012 - 5:03 PM
Article Reprints
Permission must be obtained from CareerBuilder.com to reprint any of its articles. Please send a request to
reprints@careerbuilder.com
.