Three things you'll want to know before relocating
Beth Braccio Hering, Special to CareerBuilder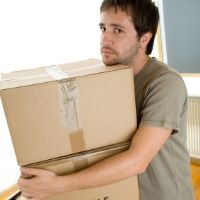 Moving to a different region for a job involves both professional and personal adjustments. Here, workers familiar with the challenges of relocation share thoughts on what would have been good to know before making the leap.
Salary is only part of the financial picture
While salary is certainly a key component of one's monetary situation, other factors can influence how much is actually gained or lost when moving to a new job. Andrew Schrage, co-founder of the personal finance blog Money Crashers, learned this first-hand when relocating from Boston to Chicago to work at an investment fund. "I just assumed that the company would pay for my move," Schrage says. "As it turned out, I had to pay for all moving expenses and was not reimbursed once I started my new job. I actually had turned down another job offer that explicitly mentioned paying for my moving costs, and I had wrongly assumed the same would be done in this case. It ultimately put a much bigger dent in my budget than I expected!"
Likewise, Schrage wishes he would have looked deeper into benefits and bonuses. "I had an awesome health insurance plan at my old job, and I also had a 401k plan that the company matched. In my new position, the health insurance was average, the company didn't offer a 401k plan and I had significantly less vacation time and personal days. I also went in assuming that I could get a percent bonus similar to what I had seen at other investment funds. Unfortunately, I quickly found out that my bonus potential was capped at a pretty insignificant amount."
An exact job description is a must
After deciding to relocate, the last thing you want is to discover that your new job isn't what you thought it would be. Clearing up details about responsibilities before accepting an offer can prevent unexpected surprises.
"It would have been good to know that I was accepting the job of program director and music director," says Therese Romano, who left Tennessee to work for a radio station in Iowa. While Romano doubts the added duties would have made her reconsider since "good radio jobs are hard to come by," finding out all that was expected prior to getting there would have helped her prepare. Not everyone who makes a long-distance move will be as willing or able to pull double duty in their new jobs, so do yourself a favor and understand the full scope of your role.
Finding suitable housing can be a challenge
"I always wished I had more time to scope out and learn the city before purchasing a home," says Deanna Scotland, a franchise partner at the removal service 1-800-GOT-JUNK who has moved for her job many times.
Schrage echoes her sentiment.
"I ended up relocating shortly after my move because I made an uninformed decision regarding the best areas of Chicago," he notes.
Not only did Romano find rentals in her new city to be in high demand because of a nearby university,  but she also didn't realize that many landlords would consider her two small dogs a problem. "I would have never expected how hard it would be to find a good, safe, clean rental in a decent area of town that also accepted pets."
It takes time to adjust
While new residents are often ready for the big changes that come with relocating, they are sometimes startled by the smaller things.
"While I anticipated that weather might be a challenge, what I didn't realize was that the company did not have any relocation support, so everything that I did, I had to do myself," says Laura Perry, who moved from California to Buffalo, N.Y., for a good job opportunity. "I had to find a real estate agent, grocery stores, shopping malls . . . I didn't realize there was not a Trader Joe's, Nordstrom or Mexican food!"
Developing a social life also can be challenging. "It would be nice if there was an easy way to meet new people and make friends outside of work, but usually in starting a new role, there is no time to invest, and many times you find that your entire life revolves around work," Scotland says.
But for those with patience and an open mind, adventure may await.
"Before I relocated, I wish I would have realized what great experiences were in store for me in new places instead of being a little uneasy before moving," says Mollie Radzinski, who moved twice for internships and again recently to become director of promotions for the South Bend Silver Hawks in Indiana. "I had never seen an ocean before I moved to Myrtle Beach. I had never seen mountains so large as when I moved to Tennessee. I had never experienced the 'college town' atmosphere before moving to South Bend ... Relocating for jobs has been wonderful, and I recommend anyone who has a chance to try something new."
Beth Braccio Hering researches and writes about job search strategy, career management, hiring trends and workplace issues for CareerBuilder.
Last Updated: 21/02/2012 - 12:12 PM
Article Reprints
Permission must be obtained from CareerBuilder.com to reprint any of its articles. Please send a request to
reprints@careerbuilder.com
.