4 tips for making relocating with a family less stressful
Beth Braccio Hering, Special to CareerBuilder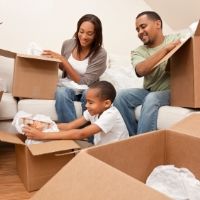 Workers know that it takes time to become settled in any new job, but for employees who relocate and bring along a family, adjustment can be particularly tricky. In fact, a nationwide survey by CareerBuilder revealed "additional stress on the family unit" as second only to "cost of living is higher" when listing the top challenges associated with relocating.
While spouses and children are bound to feel more comfortable in the new environment over time, there are ways to make the relocation process easier on everyone. Consider these suggestions:
1.  Enlist the help of the company.
Employers realize that an employee whose life away from the office falls quickly into place is bound to be happier and more focused in the workplace. From the first stages of relocation onward, see what the company can do.
Marisa Keegan, talent manager at the digital advertising agency Modea in Blacksburg, Va., notes that her firm offers standard relocation assistance such as pre-negotiated contracts with moving companies, financial assistance and information about local establishments. But the human resources department also is willing to do what it can to help with individual needs. Among things Modea has done in the past are:


Scheduling times for a spouse to meet with key business owners who can help connect to potential jobs in the area.


Introducing the family to local principals and school staff.


Getting the family tickets to a local festival, concert or sporting event to join in some extracurricular activities with the families of other workers.


Scheduling a tour with local realtors.


Setting up lunches for the spouse and kids to meet with the families of other workers.


Remember, too, that most people are happy to offer opinions. Not only will starting a conversation around the water cooler about reliable area daycares potentially solve your childcare dilemma, it will help you bond with colleagues.
2.  Think before you pack.
Facing rooms full of boxes in a new home can feel overwhelming. By clearly marking which boxes you'd like to open first, you can avoid dealing with the Christmas ornaments now and instead set up your son's model railroad so that his new bedroom feels less foreign.
As the wife of an Air Force officer, Karina Fabian of Layton, Utah, is no stranger to moving. Her packing advice includes:


Cut clutter. "Moving is the perfect time for a fresh start, unhampered by the junk in your life. Go through everything and decide whether to keep, trash or sell/give away. Everything you discard is less to pack, unpack and find a new place for."


Isolate the unpackables. "Take all the items you do not want packed and put them in a single room. Shut that door and put a big sign on it that says 'Do not pack.'"


Keep records. "Videotape all your electronics with someone reading the model and serial number so you have a record in case they are damaged or stolen in transit."


3.  Start a spousal job search ASAP.
For the spouse who needs to land a new job due to relocation, finding one can be critical to well-being (and, oftentimes, to a family's financial situation).
"Start networking as early as possible," says career coach Stacy Swearengen, owner of Military Spouse Portable Career Planning in Fort Carson, Colo. "Thankfully, social media makes this much easier than in years past. If a spouse is looking to pursue a job in a particular field, it will be very important to start reaching out before relocating so that the employer and decision-makers can get to know the spouse before even moving. Sometimes, a spouse can also join a professional organization with national chapters, which increases odds of meeting someone who knows another professional in the field you are looking for and in the region you are moving to."
CareerRelocate.com provides historical data on job markets throughout the country in order to help you assess you or your spouse's industry in your new location.
4.  Put a premium on enjoyable togetherness.
Lastly, while it may be tempting to devote all your time and energy to unpacking and settling-in chores, the family ultimately may feel less uprooted if members can do other things together. Providing children with pleasant experiences and an undistracted ear can lead to a more positive attitude about the relocation situation.
"Make sure you plan family fun days even in the midst of the move to reduce the stress," says Lisa Schlichtig, a Weichert realtor in Virginia who herself has experienced nine military moves in 17 years. "A favorite game and a bag of popcorn can be one simple way, or try going to a theme park on the way or when arriving at your new location. Just make sure that you have a break every so often to give yourselves and your children a sanity check while in the midst of chaos."
Beth Braccio Hering researches and writes about job search strategy, career management, hiring trends and workplace issues for CareerBuilder.
Last Updated: 21/02/2012 - 12:00 PM
Article Reprints
Permission must be obtained from CareerBuilder.com to reprint any of its articles. Please send a request to
reprints@careerbuilder.com
.