Free Salary Calculator >>
4 smart ways to evaluate a work-from-home offer
Rachel Farrell, Special to CareerBuilder.com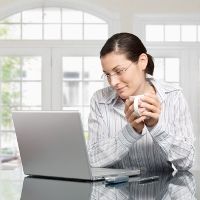 How many days of the work week do you wake up, not wanting to get out of bed and go to work? Do you think about calling in sick? Taking a personal day?
During this battle of shoulder angel versus shoulder devil, you probably also find your thoughts drifting to how there wouldn't even be a debate if you could just work from home.
The total number of people who worked from home or remotely for an entire day at least once a month in 2010 was 26.2 million, according to a 2011 report by WorldatWork. This figure represents about 20 percent of the 139 million U.S. working adults (as of fourth quarter 2010).
But like any job, working from home has its ups and downs. While you may save money from cutting out your commute and you can maintain a flexible schedule, there are a number of potential negatives to consider, says John-Paul Giugliano, senior account manager in the New York financial contracting division of Winter, Wyman, a search firm serving the Northeast.
For example, "technical difficulties get exponentially more difficult when you can't simply pop over to the help desk for a quick resolution," he says. Or, "if your role is at all team-oriented and the majority of the team sits together in the office, you may feel a slight disconnect and even some resentment from team members."
But the biggest challenge to working at home stems from one of the possible benefits: flexibility, Giugliano says.
"While the flexibility and independence of working from home can be a breath of fresh air, it can also be a double-edged sword. In order to take advantage of your newfound flexibility, take care to be super disciplined in setting up a daily plan for yourself," he says. "This way you'll always start your day with clear business goals and a game plan that will help you stay on track. Otherwise, you run the risk of getting sidetracked by other chores or home projects."
Before accepting a work-from-home job offer, Giugliano offers the following advice:
1. Weigh the pros and cons: Before you do anything else, list out the pros and cons of the role, including the reputation of the company, salary, benefits, nature of the work, the people, growth potential, and how the role fits into your short-term and long-term goals, Giugliano says.
"Compare this to the other opportunities you're considering. Does this role still rank above the others? Once you've done this, then move on to tackling the question of working from home."
2. Ask those who have been there: Solicit advice from those in your network who have experience working from home -- but make sure the advice is coming from someone whose professional opinion you respect, Giugliano says.
"Hearing that 'it's always fun to catch Oprah' might not be helpful. However, tapping into the experience of those who've successfully worked from home may be able to get you thinking about things you hadn't initially considered."
Remember to ask questions to your contact at the prospective employer, Giugliano reminds. For example, ask how the employees communicate or what the company does do to keep everyone at home engaged.
3. Be honest with yourself: Once you've gathered some information and outside perspectives, it's time to ask yourself the most important question, Giugliano says: How self-disciplined am I?
"Some people need the socialization and positive energy from the team surrounding them to function at their highest levels, and that doesn't make you a bad person," he says. "Working from home requires a strong self-discipline, focus and an ability to keep yourself on task and in a routine. If you derive focus and motivation from the energy of others around you, or you need a task master to keep you on target, then you may struggle."
4. Remember: You'll never know unless you try: Realize that no matter how much information you gather, you won't truly know if working from home is for you until you try it, Giugliano says.
"If you're excited about the opportunity, you've taken to heart suggestions from those whom you respect, and you're confident in your self-discipline, then it's time to take the plunge."
Rachel Farrell researches and writes about job search strategy, career management, hiring trends and workplace issues for CareerBuilder. Follow @Careerbuilder on Twitter.
Last Updated: 12/07/2011 - 6:05 PM
Article Reprints
Permission must be obtained from CareerBuilder.com to reprint any of its articles. Please send a request to
reprints@careerbuilder.com
.