Free Salary Calculator >>
Office vs. cubicle: What's better for your career?
Alina Dizik, Special to CareerBuilder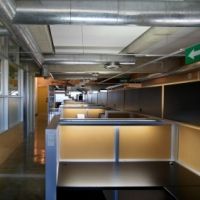 Can't wait to make it into that corner office? Think again. Paying your dues in a cubicle can provide some advantages in your career. Surprisingly, the choice between cubicle and office isn't as simple as you think, and making the right decision isn't about claiming the biggest office with the most comfortable chair. Here are the pros and cons of having an office versus a cubicle.
Reaching for the office
Just getting your own office in a company is a privilege and an honor for most. An office "may represent -- from the employee's perspective -- their status in the organization," says Dianne Shaddock Austin, a principal at Easy Small Business HR, a human resources consulting firm.
Shaddock Austin points out that although these perceptions can boost the employee's morale, they are not always accurate.
One main reason for having an office is being able to speak to clients or subordinates behind closed doors. Especially once you're in a managing role, it can be difficult to give directions to employees or have confidential conversations without going behind closed doors. "Employees whose job it is to deal with sensitive or confidential information, especially over the phone or face to face, should always choose an office over a cubicle, if there is an option to choose," she says.
Having your own space can also give you greater ownership of your role in the company. Knowing there's a place where you can retreat on your own can make it a more comfortable place to work.
Staying in a cubicle
While it doesn't have the same prestige, working in a cubicle or a more open area can give workers the opportunity to be more social and build better working relationships with their colleagues. Furniture maker Knoll found that employees are away from their assigned desks about 44 percent of their workday, according to a 2007 study, and working in a cubicle can make everyday interactions easier. Cubicles inspire a more social atmosphere, and many times it's the employees working in cubicles who have more fun.
In addition to letting employees participate in pleasant everyday chitchat, cubicles make it easier to collaborate with others. With some projects in the workplace not being formally assigned, peeking over a cubicle partition is much simpler than learning about a potential opportunity from the office. Hearing about company news or processes from conversations around you is another often-forgotten benefit. "Working in a cube can often help teams to foster a closer working relationship," Shaddock Austin says.
Learning from those around you is another perk. Listening to how someone speaks with his boss or manages a conflict over the phone is easier if you can hear those around you. Sitting behind closed doors can make it tougher to learn new techniques or ideas for managing your own workload.
For cubicle workers, lack of privacy is often the biggest pet peeve. One way to make cubicles more private is to treat them as more of an office. "Co-workers should respect work boundaries and follow the same protocol that they would if they were approaching someone working in an office," Shaddock Austin says.
Overall, whether you work behind closed doors or in a more open environment, there are perks on both sides. Depending on where you are in your career, the benefits of one could outweigh the other.
Alina Dizik researches and writes about job search strategy, career management, hiring trends and workplace issues for CareerBuilder.com. Follow @CareerBuilder on Twitter.
Last Updated: 03/05/2011 - 2:46 PM
Article Reprints
Permission must be obtained from CareerBuilder.com to reprint any of its articles. Please send a request to
reprints@careerbuilder.com
.